Texas Red Light Camera Enforcement Safety
Texas Red Light Camera Enforcement Safety Programs across Texas use state-of-the-art, high resolution, high-speed, digital cameras, and detection systems to deter people from running red lights. The program operates 24-hours per day, seven days a week, and operates in all weather conditions. These cameras are installed at some of the state's most dangerous intersections to reduce collisions through the use of fines.
The cameras are triggered when a vehicle enters the intersection after the traffic signal has turned red. The camera takes a series of two images to document the violation. The first photo shows the back of the violating vehicle which includes: the scene of the violation, the vehicle in front of the stop line, and one or more visible red light signals. The second photo shows the rear of the vehicle after the rear axle has crossed the stop line, and one or more visible red light signals. A magnified "crop" of the license plate is created from one of the two images.
The local Police Department reviews the evidence before a Notice of Violation is issued to the registered owner of the vehicle. The Notice of Violation contains images of the violation and requires the recipient to pay a $75 civil fine. Since this is a civil offense, it will not go on a person's driving record.
Did you get a ticket for running a red-light? Take our Texas Defensive Driving Course to get your ticket dismissed!
Reasons to take Comedy Driving Defensive Driving
Flexible Schedule
Email Delivery Available
Unlimited Log-ins
State Approved
No Final Exam
Animated Course
Free Audio and Video
Comedic Course
Live Phone Support
No Hidden Fee's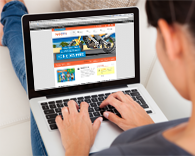 Ready to dismiss your ticket?
Social Share