Texting and Driving Caught on Camera
While on patrol on his normal route, a police officer noticed that a vehicle was driving a little erratically so he began to follow it. I'm sure he didn't expect to catch this on video but this is the actual police footage from the Florida Officer. It turns out that the driver was texting and driving. He's extremely lucky that he was not seriously injured and was able to walk away. So, do you still think it's THAT important to reply to a text while you're driving? Learn from this guy's mistake and don't be the victim of your own.
Reasons to take Comedy Driving Defensive Driving
Flexible Schedule
Email Delivery Available
Unlimited Log-ins
State Approved
No Final Exam
Animated Course
Free Audio and Video
Comedic Course
Live Phone Support
No Hidden Fee's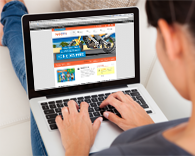 Ready to dismiss your ticket?
Social Share