Does My Texas Defensive Driving Certificate Have To Be Blue?
Does my Texas defensive driving certificate have to be blue?
"Not anymore," says Texas Defensive Driving course provider Comedy Driving Inc.
Texas certificates used to have to be printed on special blue paper prior to November 2018. Old printouts from the court can still be used though, and they still mention blue certificates as a requirement for ticket dismissal. It is true that you still need a certificate of completion from a Texas defensive driving course provider, but it does not have to be blue anymore.
In November 2018, the Texas Department of Licensing and Regulations, or TDLR, who currently regulates all defensive driving schools in Texas made it legal to receive certificates of completion through email delivery. Email delivery means Texas defensive driving students can now print and sign the certificate of completion on their own and they won't have the state-certified blue when printed. The certificate of completion was redesigned to be printed on normal 8 ½ x 11-inch printer paper.
Texas course providers like Comedy Driving Inc. recommend that you print the emailed certificate of completion on white printer paper because that is what most course providers transitioned to when the rules changed. You can still get your certificate from the Texas course provider as well through the mail if you do not have a printer or would prefer a physical copy of the document. The mailed certificates tend to take 3-5 business days to arrive in the mail from the defensive driving school.
Students often are hesitant to go with the emailed court copy because of a fear that emailed copies are not as "official" to the courts. The mailed certificates look no more official and are not more "certified" than the email certificates in Texas. Both mailed certificates and emailed certificates do have one way of showing they are official though and that is the state-approved TDLR watermark that is printed on the certificate. If you print the emailed certificate at home there will be a watermark spelling out "TDLR" on the printout that shows the document is certified and official for courtroom use. There is also the school's state license number on the document to further show the certificate is acceptable for all courts and insurance companies in Texas.
Reasons to take Comedy Driving Defensive Driving
Flexible Schedule
Email Delivery Available
Unlimited Log-ins
State Approved
No Final Exam
Animated Course
Free Audio and Video
Comedic Course
Live Phone Support
No Hidden Fee's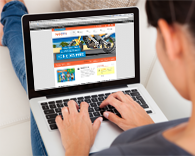 Ready to dismiss your ticket?
Social Share