How to get Same Day Defensive Driving Certificates in Texas
If you need a Texas defensive driving certificate delivered today you can get one using the Comedy Driving Texas defensive driving online class. The class is only $30 with email delivery and that means you get both a court certificate and insurance certificate emailed to you the second you complete the online course.
In the past, a defensive driving certificate had to be physically shipped to the student, but in November of 2018 policies changed to allow for email delivery. The email same-day delivery provides the certificate as a printable attachment file. Certificates emailed to students are sent the moment they complete their driving safety class.
The emailed certificate includes both a court certificate and an insurance certificate. The court copy is good for one ticket dismissal in Texas as long as the court has approved defensive driving as a ticket dismissal option. The insurance certificate can be used to get a potential 10% discount on your car insurance. Many insurance companies do provide discounts for taking defensive driving but you confirm with them first before taking the class specifically for insurance purposes. The insurance copy is normally good for 3 years after course completion.
The certificates format was also changed to allow for printing on normal 8 ½ x 11-inch printer paper. Certificates are no longer required to be printed on certified blue paper because of this change. This means if you print the emailed certificate at home or wait for it in the mail for delivery from the defensive driving school, there will be no difference in appearance between the two.
One last benefit of getting a driving safety course certificate emailed to you is that you can save the PDF file in your email or computer so you can view it again later. If you need a second copy, just pull up the file and print another. It provides an extra layer of protection in case there is an issue with the court or insurance later. Comedy Driving provides instant email certificates for thousands of students each year so when you sign up for the class we highly recommend going with the email delivery instead of standard mail.
Reasons to take Comedy Driving Defensive Driving
Flexible Schedule
Email Delivery Available
Unlimited Log-ins
State Approved
No Final Exam
Animated Course
Free Audio and Video
Comedic Course
Live Phone Support
No Hidden Fee's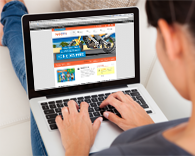 Ready to dismiss your ticket?
Social Share