Are Emailed Certificates Acceptable for Defensive Driving in Court?
In Texas, as of November 2018, emailed court driving safety certificates are acceptable for court purposes. The certificate can be emailed to you after completing the class, then you need to print the certificate, sign the court copy, and send the signed printed copy to the court. This new delivery method means you can receive defensive driving certificates the same day you finish the class.
Many courts in Texas give defensive driving students 90 days to complete and turn in proof of class course completion. Sometimes that deadline can be difficult to meet, especially with a delivery that can take 1-7 days to receive in the mail. Same-day email delivery means no waiting for the certificate and if you take the course at the last minute you are still okay. This is because the certificate in email format can be printed the same day you complete the class.
Two common questions from students about email delivery are "do I need to print the certificate and what if you don't have a printer?" First off, the court will not accept the certificate as an email because it must be signed first. If you do not have a printer you can use a friend or family member's printer, a local library printer, work printer, or nearby print shop to print the certificate. You can just log into your email when you are at any of those locations and print the emailed defensive driving certificate from there.
Printed driving safety certificates must be signed before you submit them to the court for ticket dismissal. The printed certificate will have two copies; one for court purposes and one for insurance purposes. Sign the top court copy where it says "student signature" and cut it in half. This will leave you with the insurance copy half to submit to your insurance for a potential discount on your insurance.
To turn in the court copy of the certificate you can drop off the signed defensive driving court certificate in person on or before the due date with the court clerks. You can also mail the signed certificate to the courts and most will accept the certificate as long as it was postmarked on or before the submission due date. After the court accepts the certificate the court case should be dismissed and no ticket will be added to your driving record.
In conclusion, if you need a state-approved defensive driving certificate today, then just take our online defensive driving class at www.ComedyDriving.com and choose the email delivery option. Once the course is finished you'll have the driving safety certificate in your email box the second the course is finished.
Reasons to take Comedy Driving Defensive Driving
Flexible Schedule
Email Delivery Available
Unlimited Log-ins
State Approved
No Final Exam
Animated Course
Free Audio and Video
Comedic Course
Live Phone Support
No Hidden Fee's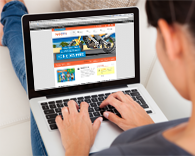 Ready to dismiss your ticket?
Social Share