How Do I Take Defensive Driving in Texas?
Not all tickets have to go on your record. If you received a ticket that is eligible, you may be able to take defensive driving to get it dismissed. This means you don't have to pay the full ticket and you don't have to risk too many points on your driving record leading to surcharges. Just take Defensive Driving for the state of Texas and it disappears!
How do you take Defensive Driving to dismiss a ticket in Texas? It actually boils down to three pretty simple steps.
1. Get Permission
Be sure the court that you received the ticket in knows that you want to take the class. The completion date on the certificate won't be valid if you skip this important step. You will normally be able to do this step over the phone or using an online portal that is provided on the paperwork. There is a fee that varies depending on which court you are taking the class for. This fee is separate from the class cost.
2. Register
You can begin the registration for the course here. Registrations will ask you to provide the correct court information, a shipping address, and driver's license number along with some additional confirmation information. Payment for the class is normally taken online during registration. Be sure the course is state-approved by finding the licensing information on the website home page.
3. Submit Completion
Once the class is completed, a certificate will be sent to you. This is the document you need to turn in to the court. You can do this via mail or in person. In some cases, your court may also require that you turn in a driving record with your completion certificate which can be ordered here.
In the state of Texas, you can receive your defensive driving certificate of completion by mail or email. If you choose mail delivery, it will take 2-4 days to arrive upon completion of the course. If you choose email delivery, you will receive it immediately after completing the course.
Reasons to take Comedy Driving Defensive Driving
Flexible Schedule
Email Delivery Available
Unlimited Log-ins
State Approved
No Final Exam
Animated Course
Free Audio and Video
Comedic Course
Live Phone Support
No Hidden Fee's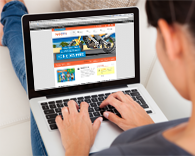 Ready to dismiss your ticket?
Social Share