What To Do If You Get A Traffic Ticket in Texas
Texas Traffic Tickets
What to do if you get a traffic ticket in Texas, you have options other than just paying the ticket. When you go to court on the scheduled date to handle your ticket, you can request permission from the court to take a defensive driving course in order to keep the traffic violation from going on your record. As long as the traffic violation is not too extreme such as driving in excess of 30 miles per hour over the speed limit and you haven't taken defensive driving to dismiss a ticket within the previous year, the court will usually allow you to take a Texas Defensive Driving class. However, they are not required to do so. It is at the discretion of the court.
Once you've received permission from the court to take Texas defensive driving, be sure to find out exactly what information you will have to submit after you've completed the course. There is usually a certificate of completion for a driver's safety course, a copy of your driving record (Type 3A), and an affidavit that is signed and notarized.
After you complete the Texas drivers safety course and you've received your certificate of completion in the mail, you should submit all of your paperwork (certificate of completion, copy of your driving record, and the affidavit) to your court as soon as possible. There is a deadline for submitting paperwork and you need to make sure you do so before the deadline you're given.
Did you get a Texas Traffic Ticket? Visit our online defensive driving homepage to see how you can get your ticket dismissed today!
Reasons to take Comedy Driving Defensive Driving
Flexible Schedule
Email Delivery Available
Unlimited Log-ins
State Approved
No Final Exam
Animated Course
Free Audio and Video
Comedic Course
Live Phone Support
No Hidden Fee's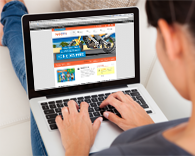 Ready to dismiss your ticket?
Social Share