We've all been in the car with someone who is texting while driving. Sometimes you may even be the one guilty of it yourself. Sure, you might think you're good at it or it will only take 2-5 seconds but the reality is, no one is good at it and it can't be stressed enough that texting while driving is dangerous.  This video from the UK gives a very realistic depiction of the effects of texting while driving. Maybe after watching this, you'll think twice about texting and driving. If you know someone who thinks it's ok to text while driving, then share this BLOG with them and encourage them to stop.
Reasons to take Comedy Driving Defensive Driving
Flexible Schedule
Email Delivery Available
Unlimited Log-ins
State Approved
No Final Exam
Animated Course
Free Audio and Video
Comedic Course
Live Phone Support
No Hidden Fee's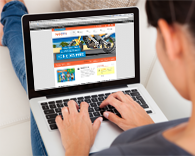 Ready to dismiss your ticket?
Social Share