Are Cameras Replacing Mirrors?
The globally acclaimed and ever-growing Cadillac brand is debuting some breakthrough technology that manufacturers have considering delivering for quite a while. The mirror camera feature available in some models will enable drivers to see what's behind them with a live video feed rather than a reflection.  It has some people asking, are cameras replacing mirrors?
Sound cool, right?
One of the main problems in the transition from a mirror to a camera is government regulation. Laws in place to ensure that manufacturers are protecting drivers. These mirrors and their placement are written into federal guidelines preventing the cameras from being an easy replacement.
In the case of the Cadillac's rear camera upgrade, they were able to work around this regulation with the flick of a switch. In the default mode, the device is a regular default mirror and will only stream the live video from the rear camera when the driver changes the settings.
This will also help drivers that do not want to see the video stream at all times because, considering some of the visual limitations of the live video feed, that sometimes might be the case.
With the use of the rearview mirror, drivers don't require any additional time for their eyes to refocus on the image because it sees at the same distance that the view in front of them does. When making the switch from looking through the front window to looking at the video feed, the eyes will need to take that extra time. Some flashing in the feed from the LED lights at night is subtle but can cause those that suffer from migraines some problems.
There are plenty of reasons to love the camera feature, though. When the back window is obstructed by objects, people, or the glare of the sun, the camera will be able to "see-through" those obstacles. The view is also very wide, covering blind spots that a mirror might not catch. Additionally, there is a water-shedding coating on the camera that will keep the feed clearly visible in any weather conditions.
This camera mirror is available for the CT6 sedan and the XT5 crossover with the right model upgrades (which get pretty expensive). With the camera being so exclusive, they can afford to keep it at a pretty high cost. That may change if this idea gains popularity.
Reasons to take Comedy Driving Defensive Driving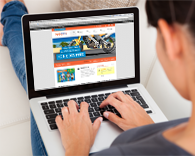 Ready to dismiss your ticket?
Social Share