Parking lots are often considered a safe haven from the dangers that come with driving on a roadway. But with as many people as there are in parking lots, both vehicles and pedestrians, there is great potential for an accident. Below are some parking lot driving safety tips:
1. Don't block the driveway while waiting for someone to get out of a spot. Doing so can impede the flow of traffic throughout the parking lot and can cause severe traffic jams. Also other drivers may be behind you looking side to side for a parking spot of their own, and they may not see you've come to a stop and may collide with you. It's safer to move on and find another spot.
2. Follow the direction of the arrows in a parking lot when they are present. Driving in a direction not indicated by the arrows can result in a head-on collision with another vehicle that is going in the indicated direction.
3. Pull completely into a space and center your vehicle as best you can in the space. Not pulling far enough into a space can result in another vehicle clipping the back of your car and causing damage that could have otherwise been avoided. Pulling too far into a space can result in the car on the other space hitting your car because they were trying to get far enough into their space so that their vehicle wasn't hanging out of their space. Being too far to either side of the space can result in cars next to you dinging your car when they open their doors.
4. Travel at very low speeds. Some larger vehicles can impede your view of smaller vehicles trying to pull out of a space. If you're moving too fast then they may back into you as you're driving by. You may also run into them if you think the spot is available since you couldn't see the smaller vehicle behind the larger vehicle. By moving at lower speeds, you can react quicker and better avoid collisions.
5. Park only in designated spaces sized for your vehicle. Parking in areas not designated for your vehicle type can result in citations or even having your car towed. Trying to fit your car into a space that is too small for your vehicle can result in the same damage caused by not pulling completely into a space and centering your vehicle.
Did you get a ticket for a traffic collision in a Texas parking lot? Take our Texas Defensive Driving Class to get your ticket dismissed!
Reasons to take Comedy Driving Defensive Driving
Flexible Schedule
Email Delivery Available
Unlimited Log-ins
State Approved
No Final Exam
Animated Course
Free Audio and Video
Comedic Course
Live Phone Support
No Hidden Fee's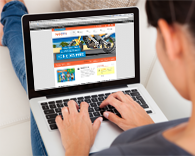 Ready to dismiss your ticket?
Social Share