Drivers on the road must be careful at all times and be observant of all vehicles on the highway.  At any point, a vehicle can lose control, brake, change lanes, enter/exit a highway or road.  There are all sorts of actions and behaviors to look out for, but what should a motorist's behavior be around large trucks?
In 2012, there were about 3921 fatalities, involving large trucks on the road, in the US according to the Fatality Analysis Reporting System (FARS). These stats and more information can be found in the National Highway Traffic Safety Administration (NHTSA) website.  Also in 2012, injuries related to big rigs were about 104,000, per the National Automotive Sampling System (NASS) and General Estimate System (GES), which calculates to about a 16000 increase from 2011.
These statistics are certainly troubling and for this reason, smaller vehicles must respect and behave in certain manners in the presence of a vehicle that weighs up to 80,000 pounds.  Always remember these vehicles do not maneuver as well as smaller vehicles so they have fewer options and choices when deciding how to execute certain decisions needing to be made.
With this in mind, never tailgate a big truck.  Large trucks will obstruct certain views from other drivers and being directly behind one will limit the driver behind it from seeing the road ahead.  This means if the large truck were to suddenly stop or apply their brakes the car behind it better has enough space to break and not hit the truck.
Think about this: a small vehicle has blind spots which make it difficult for it to see other vehicles that are positioned in certain places either to the side or somewhere behind it.  Put into perspective the size of an 18 wheeler and how challenging it is when smaller vehicles are in its blind spots.  Also, the length of the distance of its blind spots must be considered.  Therefore, when passing up a large truck do it quickly and make sure not to coast beside it where the driver will not be able to see other vehicles.
There are multiple reasons why vehicles should not trail or travel beside larger trucks.  Reason one; imagine if the big rig were to all of a sudden need to move over to the lane that is occupied by a smaller vehicle that cannot be seen by the driver.  Reason two; those trucks carry a lot of weight that is supported by rubber tires.  It is quite frequent that when motorists travel the roads, pieces of rubber debris can be seen for miles.  When truck drivers have a blowout, those tires pretty much explode since they have so much weight to handle.  Imagine being either behind or next to one of those tires.
There should also be plenty of distance between the large truck and a vehicle in front of it.  Remember, since large trucks weigh a lot more, they require more distance to stop.  Never cut one off where it will put the driver of the larger vehicle in a position where he has little time and distance to stop.  The driver of the smaller vehicle will probably be unfortunate.
Again, one must always pay attention to all vehicles on the road, but the additional focus must be given to larger trucks on the road to ensure a safe drive.
Reasons to take Comedy Driving Defensive Driving
Flexible Schedule
Email Delivery Available
Unlimited Log-ins
State Approved
No Final Exam
Animated Course
Free Audio and Video
Comedic Course
Live Phone Support
No Hidden Fee's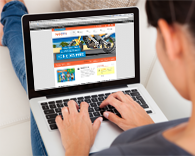 Ready to dismiss your ticket?
Social Share