How to React to an Approaching Emergency Vehicle
When you see an emergency vehicle approaching your car from any direction with red and blue lights flashing and the bell or siren sounding, you have to bring your vehicle to a stop immediately. While doing so, you are also required to bring your car as close to the edge of the roadway or right-hand curb as possible. If you are on a one-way street or divided highway that has more than 2 lanes of traffic, it's important that you move to the edge of the roadway or the closest curb.
Things to Remember
Your vehicle should also be parallel to that roadway and clear of intersections (this includes highway on or off-ramps)
Don't move onto or stop on the roadway shoulder, as emergency vehicles might be traveling along that path
If you're in an intersection and planning on making a turn when you see an approaching emergency vehicle, abandon the turn and clear that intersection by proceeding straight as soon as it's safe to do so. You can then pull to the right and stop
This clears the intersection and minimizes the possibility of collision with that emergency vehicle, in case it is passing you exactly on the side that you wanted to turn towards
Once the emergency vehicle has moved past you, ensure that the way is clear, signal, and then move back into the main traffic stream. At times, there may be more than one emergency vehicle following the one that just passed you, and it becomes important for you to remain vigilant and allow them to pass before moving back into the traffic. Keep in mind that it's illegal to follow within 150-meters of a fire vehicle that is responding to a fire alarm
Maintain Alertness
Always be prepared to clear the way when you spot an approaching emergency vehicle with its siren or lights on. It's also very important that you react calmly and quickly and that you don't slam on the brakes or pull over suddenly. The important thing to keep in mind here is that the emergency vehicle has to be given right of way regardless of how much of a hurry you are in to get to your destination. Defensive driving courses teach you these things and help you to learn safe driving.
Reasons to take Comedy Driving Defensive Driving
Flexible Schedule
Email Delivery Available
Unlimited Log-ins
State Approved
No Final Exam
Animated Course
Free Audio and Video
Comedic Course
Live Phone Support
No Hidden Fee's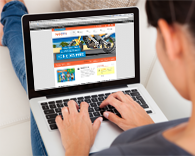 Ready to dismiss your ticket?
Social Share