This week, weather experts are predicting severe weather today for states in the plains region of the U.S. The strong storms are expected to bring hail, strong winds and possibly tornadoes.
If you are out on the road and are caught driving in this dangerous weather, below are some tips to keep you safe.
If it starts to hail, stay in your vehicle.
Many people may attempt to step out of their home or their vehicle to record or take pictures of a hailstorm, but some hail can be up to the size of a softball or even larger and can inflict a lot of damage to a person. If you are driving, stay in your vehicle and slow down if at all possible. Try to pull over to a safe place like a gas station or parking lot. If you have to pull over on a highway or on the side of the road, be sure to get off the road and onto the shoulder. Turn on your emergency flashers to let other drivers know you are on the side of the road and stationary.
Have your radio tuned to a weather station.
During severe weather, it is very important to stay informed. Find out what direction the severe weather is heading towards and try your best to move away from the bad weather, or seek safe shelter. Have your mobile device on and activate the "Emergency Alert" app. This will give you an idea where the bad weather is heading and/or if there are possible flash floods, strong winds or tornadoes in the area.
Do not attempt to cross high water.
If you see high water simply turn around and do not attempt to cross. Fast-moving or rushing water that is as low as 6 inches can alter the direction of a vehicle and can even carry it away. If there is a dip in the road or an underpass consider an alternate route. Areas that are notorious for flooding should be avoided as well.
Listen to Authorities
If authorities are urging you to stay off the road, then you should stay off the road. If you need to report to work consider calling your place of business and inform them severe weather is impeding you from driving. If possible, consider working from home or take a day of absence in order to prevent leaving your home. If you absolutely need to leave make sure you let someone know where you are going, what route you are taking and what time you expect to arrive.
Reasons to take Comedy Driving Defensive Driving
Flexible Schedule
Email Delivery Available
Unlimited Log-ins
State Approved
No Final Exam
Animated Course
Free Audio and Video
Comedic Course
Live Phone Support
No Hidden Fee's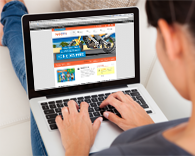 Ready to dismiss your ticket?
Social Share