Texas Defensive Driving Tip | Passing Another Vehicle
According to the Texas Transportation Code, a driver passing another vehicle must pass to the left of the other vehicle at a safe distance and may not move back to the other right side of the roadway until it has safely and clearly passed the other vehicle.
A driver cannot drive on the left side of the roadway to pass another vehicle unless the left side of the roadway is clearly visible and free of approaching traffic for a distance sufficient to permit passing without interfering with the operation of the passing vehicle or a vehicle approaching from the opposing direction.
A driver passing another vehicle must return to his or her lane of traffic no later than coming within 200 feet of an approaching vehicle. A driver who is being passed by another vehicle should move or remain to the right in favor of the passing vehicle and may not accelerate until completely passed by the passing vehicle. This only applies when passing to the right is not permitted.
Did you get a Texas traffic ticket for passing an officer too fast? Then visit our Texas Traffic Ticket Dismissal website to see how you can get your ticket dismissed today!
Reasons to take Comedy Driving Defensive Driving
Flexible Schedule
Email Delivery Available
Unlimited Log-ins
State Approved
No Final Exam
Animated Course
Free Audio and Video
Comedic Course
Live Phone Support
No Hidden Fee's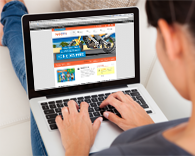 Ready to dismiss your ticket?
Social Share