Online Vs Classroom Defensive Driving in Texas
Texas Defensive Driving Classroom Course
Taking your Texas Defensive Driving course in one of our classrooms requires you to adhere to the school's class schedule; however, there are scheduled breaks throughout the class, including a thirty-minute lunch break. Each class is taught by a professional comedian, who will get you to laugh while teaching you how to be a defensive driver, and they can also answer any driving questions you may have. The cost of taking our course in a classroom is $35. We currently have 4 convenient classroom locations around the Houston area where you can take the course.
Texas Defensive Driving Online Class
Taking the course online allows you to take the course when your schedule allows and you can break it into parts so you don't have to take the entire six-hour course in one sitting. Another advantage is that you can take breaks whenever you like. Because our course was developed by professional comedians, we will get you to laugh through narration, animation, and videos. This means you can have fun while completing the course! We have created it to incorporate funny cartoons, and it is 100% videos and animations, so there is no reading required. Another advantage of taking an online class is if that you can take it at any time, 24 hours a day, 7 days a week, at your own pace.
Texas Defensive Driving Shipping Options
As of November 1st, 2018, you can now have your defensive driving certificate delivered by email.  It doesn't matter if you take our course in person or online, you can still choose email delivery of your certificate.  The only variance is that if you take our course in person, you will receive it by email within an hour of completing the class.  Whereas, if you take the course online, you will be able to download a copy of the certificate as soon as you finish the course.  We also email you a copy so you can access it at any time.  If you still prefer to have a printed copy sent to you in the mail rather than an email version, we have that option available as well.
Reasons to take Comedy Driving Defensive Driving
Flexible Schedule
Email Delivery Available
Unlimited Log-ins
State Approved
No Final Exam
Animated Course
Free Audio and Video
Comedic Course
Live Phone Support
No Hidden Fee's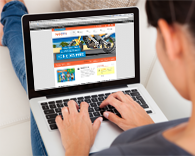 Ready to dismiss your ticket?
Social Share