Imagine you are drowning and someone hands you a baby, even better you are on fire and someone pours a tank of gasoline on you, or your house is going to be foreclosed and your dog just ate your 10 million dollar lottery ticket. This is how it feels getting a traffic ticket in Harris County after a long day of work in bumper to bumper traffic and you still have to run errands but now your day just became even longer because you decided to cut through a parking lot and the police are now writing you a ticket. What a great day! People are too busy in Harris County to attend a classroom location to dismiss traffic tickets and that is why Comedy Driving has created a Harris County defensive driving online course that is open 24 hours a day 7 days a week. Our online course never closes and you can complete the course on any device that has an internet connection such as your smartphone, tablet, or desktop computer.
You do not have to complete the whole course in one day, you can log in and out of your account as many times as you need to and when you are ready the website will take you to the spot where you left off. Our online course is only $25 which is the lowest price allowed by state law.  You do not have to worry about reading or writing because the course is extremely easy and entertaining. Created with the help of professional comedians, our Texas driver safety course will educate you on becoming a better driver. We guarantee you will laugh your way through it. When you sign up for our online course you will have a few different shipping options.  If you choose email delivery, you will be able to download a copy of your certificate as soon as you've completed the course.  We also email you a copy so you can access it later if needed.  If you choose regular mail delivery, once you have completed the online course your certificate will be mailed to you arriving in 3-5 business days and you will have two copies of the certificate. One copy can be used to get an insurance discount that may last for three years and the other copy is for the court. Comedy Driving can order your driving record for you as well because eighty percent of Texas courts require this document so your driving record will be emailed to you within 24 hours of the request.
If you have any questions please feel free to call us at 713-465-0042.
Reasons to take Comedy Driving Defensive Driving
Flexible Schedule
Email Delivery Available
Unlimited Log-ins
State Approved
No Final Exam
Animated Course
Free Audio and Video
Comedic Course
Live Phone Support
No Hidden Fee's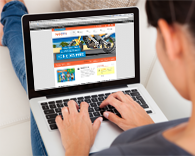 Ready to dismiss your ticket?
Comedy Driving is approved for all courts in Texas, including but not limited to, the following courts in and around Harris County.


Harris County TX Justice of The Peace Courts
Harris County
Precinct 1 Place 1 Judge Gorczynski
7300 N. Shepard, Rm. 138
Houston, TX 77091
713-274-0695
Monday – Friday 8:00 – 4:30
Harris County
Precinct 1 Place 2 Judge Patronella
1302 Preston
Houston, TX 77002
713-755-5167
Monday – Friday 8:00 – 5:00
Harris County
Precinct 2 Place 1 Judge Delgado
10851 Scarsdale
Houston, TX 77089
281-481-9630
Monday – Thursday 8:00 – 4:30
Friday 8:00 – 4:00
Harris County
Precinct 2 Place 2 Judge Risner
101 S. Richey, Suite B
Pasadena, TX 77506
713-274-6100
Monday – Friday 7:30 – 4:30
Harris County
Precinct 3 Place 1 Judge Parrott
14350 Wallisville Rd., Suite 102
Houston, TX 77049
713-274-0760
Monday – Friday 7:30 – 5:00
Harris County
Precinct 3 Place 2 Judge Coffey
701 W. Baker Rd.
Baytown, TX 77521
281-427-7449
Monday – Friday 8:00 – 4:30
Harris County
Precinct 4 Place 1 Judge Adams
6831 Cypresswood Dr.
Spring, TX 77379
713-274-6550
Monday – Friday 8:00 – 4:30
Harris County
Precinct 4 Place 2 Judge Lawrence
7900 Will Clayton Parkway
Humble, TX 77338
281-446-7191
Monday – Friday 7:30 – 5:30
Harris County
Precinct 5 Place 1 Judge Ridgway
6000 Chimney Rock, Suite 102
Houston, TX 77081
713-661-2276
Monday – Friday 8:00 – 4:30
Harris County
Precinct 5 Place 2 Judge Williams
16715 Clay Rd., Suite 4
Houston, TX 77084
713-274-0800
Monday – Friday 8:00 – 5:00
Harris County
Precinct 6 Place 1 Judge Vara
333 Lockwood
Houston, TX 77011
713-274-3985
Monday – Friday 8:00 – 4:30
Harris County
Precinct 6 Place 2 Judge Rodriguez
1001 S. Sgt. Macario Garcia
Houston, TX 77011
713-921-6141
Monday – Friday 8:00 – 4:00
Harris County
Precinct 7 Place 1 Judge Green
5737 Cullen Blvd.
Houston, TX 77021
713-747-3553
Monday – Friday 8:00 – 5:00
Harris County
Precinct 7 Place 2 Judge Burney
5300 Griggs Rd.
Houston, TX 77021
713-274-0700
Monday – Friday 7:30 – 5:30
Saturday 9:00 – 12:00
Harris County
Precinct 8 Place 1 Judge Williamson
7330 Spencer Hwy.
Pasadena, TX 77505
281-479-6900
Monday – Friday 8:00 – 4:30
Harris County
Precinct 8 Place 2 Judge Ditta
16603 Buccaneer
Houston, TX 77062
281-488-8780
Monday – Friday 8:00 – 4:30
Social Share