Fort Bend County Texas Defensive Driving
Fort Bend county covers an area to the southwest of Houston and is home to a golf course and an above-average number of airports. You might be asking yourself, "Would my car win in a race with an airplane?" The answer is yes, at first. Comedy Driving is not to be held responsible for any damages when you race the car off a cliff. Cars do not fly. Not without special modifications anyway. This is one of the many useful bits of information you get when you take one of Comedy Driving's Fort Bend County Texas defensive driving courses.
Comedy Driving has both classroom and online courses available for Fort Bend. Our closest classroom is located in Sugar Land, near the crossroads of Dairy Ashford and 59. If you live south of highway 6, just go north on 59 and take the Dairy Ashford exit, stay on the feeder, and you'll see us to your right after a Berry Hill, right next to a Goodwill.
Afraid to go outside? Scared of falling cars? You can also take our course within the comfort and safety of your own home. Just go to the top of this page and click "sign up for online course" in the upper left. Our course cost is only $25 - the lowest price that we can charge in Texas. With our course, you'll also get access to our customer support line. Our staff is here to help you with any questions you might have.
If you have any questions, just give us a call at (713) 465-0042
We can also be reached by email at comedydriving@comedydriving.com
Reasons to take Comedy Driving Defensive Driving
Flexible Schedule
Email Delivery Available
Unlimited Log-ins
State Approved
No Final Exam
Animated Course
Free Audio and Video
Comedic Course
Live Phone Support
No Hidden Fee's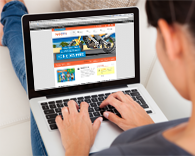 Ready to dismiss your ticket?
Comedy Driving is approved for all courts in Texas, including but not limited to, the following courts in and around Fort Bend County.


Fort Bend County TX Justice of The Peace Courts
Fort Bend County
Precinct 1, Place 1- Judge Gary Janssen
3114 Rosenberg St.
Needville, TX 77461
979-793-3403
Fort Bend County
Precinct 1, Place 2- Judge Mary S. Ward
517 Eugene Heimann Circle, Suite 100
Richmond, TX 77469
281-341-3742
Fort Bend County
Precinct 2- Judge Joel C. Clouser, Sr.
303 Texas Parkway (FM 2234), Room 107
Missouri City, TX 77489-1133
281-403-8080
Monday 8:00 - 4:00
Tuesday 8:00 - 4:00
Wednesday 8:00 - 5:00
Thursday 8:00 - 4:00
Friday 8:00 - 12:00
Fort Bend County
Precinct 3- Judge Kenneth S. Cannata
22333 Grand Corner Drive
Katy, TX 77494
281-238-1460
Fort Bend County
Precinct 4- Judge Laura Richard
12919 Dairy Ashford, Suite 100
Sugar Land, TX 77478
281-491-6016
Monday - Friday 8:00 - 4:30
Social Share