El Paso County Texas Defensive Driving
Trying to find an El Paso County Texas Defensive Driving course? Not having much success? Afraid of meeting new people? We here at Comedy Driving understand those feelings. New people can be scary. You don't want to sit in a classroom full of speeders and criminals. You want to be on the outside, driving through the country, over some of El Paso County's beautiful restored bridges, not in some stuffy corner in a classroom. Nobody puts Baby in a corner!
Spend less time cooped up with strangers and more time laughing with us! Our theory of teaching is simple: People learn more when they are awake! Are you awake now? Wake up sleepy! It's Comedy Driving time!
Comedy Driving offers a fluid and fun online course. Just click "sign up for online course" in the upper left of the page. From there, our site will guide you through the sign-up process step-by-step. The course cost is only $25, and we also offer some expedited shipping options for some of our more harried customers
We have a team of animators inhouse who are regularly updating our course with new jokes, smoother animations, and new voiceovers. Our customer support staff is dedicated to making your experience with us easy and fun. The Comedy Driving team is here to help.
If you require any assistance, please give us a call. Our number is (713) 465-0042. We can also be contacted through our email, comedydriving@comedydriving.com.
Reasons to take Comedy Driving Defensive Driving
Flexible Schedule
Email Delivery Available
Unlimited Log-ins
State Approved
No Final Exam
Animated Course
Free Audio and Video
Comedic Course
Live Phone Support
No Hidden Fee's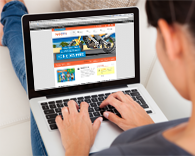 Ready to dismiss your ticket?
Comedy Driving is approved for all courts in Texas, including but not limited to, the following courts in and around El Paso County.


El Paso County TX Justice of The Peace Courts
El Paso County
Precinct 1 Robert T. Pearson
424 Executive Center Suite 100
El Paso, TX 79902
915-534-3917
Monday - Thursday 8:00 - 4:30
Friday 8:00 - 12:00
El Paso County
Precinct 2 Brian J. Haggerty
4641 Cohen Suite A
El Paso, TX 79924
915-751-7575
Monday - Friday 8:00 - 5:00
El Paso County
Precinct 3 Guadalupe Aponte
500 E. San Antonio 3rd Floor Suite 308
El Paso, TX 79901
915-546-2170
Monday - Friday 8:00 - 5:00 (closed 12:00 - 1:00)
El Paso County
Precinct 3 Guadalupe Aponte
1840 Lee Trevino Suite 109
El Paso, TX 79936
915-594-1143
Monday - Thursday 8:00 - 5:30
Friday 8:00 - 12:00
El Paso County
Precinct 5 Monica Teran
9521 Socorro Rd Suite B2
El Paso, TX 799270
915-859-3744
Monday - Friday 8:00 - 4:30
El Paso County
Precinct 6 Place 1 Ruben Lujan
190 N. San Elizario Rd.
Clint, Texas 79836
915-851-2019
Monday - Thursday 8:00 - 4:30
Friday 8:00 - 11:30
El Paso County
Precinct 6 Place 2 Rosie Dominguez
14608 Greg Dr
El Paso, TX 79938
915-855-3062
Monday - Thusday 7:00 - 5:30 (closed 12:00 - 1:00)
El Paso County
Precinct 7 Bruce King
435 Vinton Rd.
Vinton, Texas, 79821
915-886-2598
Monday - Thusday 8:00 - 4:30 (closed 12:00 - 1:00)
Social Share