Cameron County Texas Defensive Driving
It's late at night and you're the only car on the road in Cameron county, there's a voice in your head telling you no one is out here let's punch it and see how fast we can go. So you agree with yourself and increase speed to over 90 mph and all of a sudden for some odd reason there are flashing lights behind you and you're not even famous so it's not the paparazzi its the police doing their job. Here's what you do next, go to court and beg the judge to take defensive driving to dismiss the ticket and that you will never speed again until you get caught. Once you have permission your next step should be to go online and sign up with Comedy Driving. This area of Texas may not have a physical location to take a driving safety class and that is why Comedy Driving has created a Cameron County Texas Defensive Driving online course. Our online course is available to start and finish 24 hours a day 7 days a week. Police never stop writing tickets and our online course never closes, because we know how it can be with completing the course within a certain time frame.
When it comes to receiving your certificate of completion, Comedy Driving has plenty of options to choose from, immediate certificate download being our most popular. You will have two copies of the certificate, one for the court and the other can be used to get an insurance discount that may last up to three years. Our course is only $25 which is the lowest price allowed by state law and we are approved by the Texas Education Agency along with Region XIII which means our completion certificates are accepted by all courts in Texas especially Cameron county.
If you need assistance with ordering a driving record we can order it for you and email the document to you within 24 hours of your request.
If you have questions about ticket dismissal please feel free to give us a call on our customer service line at 713-465-0042.
Reasons to take Comedy Driving Defensive Driving
Flexible Schedule
Email Delivery Available
Unlimited Log-ins
State Approved
No Final Exam
Animated Course
Free Audio and Video
Comedic Course
Live Phone Support
No Hidden Fee's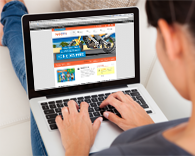 Ready to dismiss your ticket?
Comedy Driving is approved for all courts in Texas, including but not limited to, the following courts in and around Cameron County.


Cameron County TX Justice of The Peace Courts
Social Share