Turn Signals: Why to Use them when Other Drivers Don't
Motorists have few ways to communicate with each other and one of the easiest methods is to use turn signals.
Here's how to Use a Turn Signal:  To use a turn signal all a driver has to do is pull the lever on the left on their steering wheel up or down and a turn signal will activate.
That seems pretty simple but many motorists seem unable or reluctant to perform this simple task.  Some motorists even don't signal because they feel since other drivers don't signal why should they.  There is a very good reason to use turn signals; it lets people know your intentions.
Many car accidents occur because motorists are not prepared, what is a better way to prepare motorists then telling them what you are going to do?  Turn signals do just that.  Sometimes people get annoyed because when they signal vehicles speed up to fill the gap and prevent a lane change.  This is hard to prevent but it is better than just changing lanes without signaling because it reduces agitating of other motorists.
Road rage is amplified when someone is cut off by a motorist without signaling.  People tend to think, "not only did they cut me off, they didn't have the decency to use a turn signal to allow me time to react."  It is not recommended to leave a turn signal on for long after a turn because that can be seen as a sign of victory after passing another vehicle.  No one likes a gloating motorist.
Turn signals also help motorists react and plan for someone making a turn in front of them.  Drivers can change lanes to go around a motorist making a turn or prepare to slow down.  Motorists know that turning safely means slowing down so a turn signal is a warning that the brakes are about to be used.
Not only are turn signals helpful and useful in communicating with other motorists, they are also required to be used by law.  Drivers can be ticketed for not using their turn signals.  For something as simple to use, no motorist should get a no turn signal ticket.
Reasons to take Comedy Driving Defensive Driving
Flexible Schedule
Email Delivery Available
Unlimited Log-ins
State Approved
No Final Exam
Animated Course
Free Audio and Video
Comedic Course
Live Phone Support
No Hidden Fee's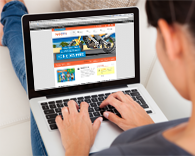 Ready to dismiss your ticket?
Social Share