Don't Worry What Tailgater's Think
Many motorists follow the vehicle ahead of them much too closely, which inadvertently provides the driver less than enough reaction time to prevent an accident. The simplest defensive driving technique, the 3-second following distance rule, is the most effective toward accident prevention on roadways.
Also known as tailgating, following too closely behind another motorist is a perilous driving habit, which is commonly conveyed as aggressive behavior. More importantly, it is currently the leading cause of both injury and non-injury related accidents. When you follow another vehicle too closely it is near impossible to identify and prepare for unexpected hazardous roadway situations.
In perfect weather conditions, the suggested following distance is three-seconds. How does this rule work? Choose a fixed object on the side of the road, like a tree or a road sign, and wait for the rear end bumper of the vehicle to cross with that object and start counting "one Mississippi, two Mississippi, three Mississippi."  If your front bumper passes that same point before reach "three Mississippi", then you are driving too close to the vehicle in front of you. To correct this, slightly let off the gas until you are three full seconds, or more, following-distance behind the car ahead. If road conditions become altered negatively by weather, Comedy Driving recommends you to double your following-distance to six-seconds.
Ultimately, every driver must be aware of their surroundings and maintain enough room in case something unexpectedly goes wrong. Even during traffic, a motorist must leave enough space between your vehicle and the one ahead of you. If the vehicle in front of you breaks down, you will need space for visibility in order to safely maneuver around. If your vehicle is struck from behind, proper space may be the factor preventing your vehicle from involuntarily hitting the vehicle ahead of you, creating a domino-like effect.
Reasons to take Comedy Driving Defensive Driving
Flexible Schedule
Email Delivery Available
Unlimited Log-ins
State Approved
No Final Exam
Animated Course
Free Audio and Video
Comedic Course
Live Phone Support
No Hidden Fee's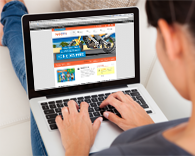 Ready to dismiss your ticket?
Social Share