Preparing Your Vehicle For Hurricane Season
The Atlantic Hurricane season starts on June 1st and lasts through November 30th. It is important to prepare an evacuation plan before a hurricane warning is ineffective in your area. Have at least one designated evacuation plan with alternate routes; the more options for evacuation the better in case of road closures.
Here are some additional tips for preparing your vehicle for hurricane season:
Map it out: make sure you know alternate routes and do not plan to depend on your GPS or cell phone device for directions. In a given evacuation situation your vehicle will be an essential need, it is recommended to prepare your vehicle in advance to avoid any troubles and prevent evacuation panic. Regardless of the actual distance, you are driving for your evacuation plan, consider preparation for it as if it was an actual road trip.
Make sure you have a full tank of gas: Before taking off for evacuation, make sure you have a full tank of gas, even if you can estimate the amount of gas you need is less than a full tank. Never assume an exact time on the road, you may have longer waiting time in traffic than you expect.
Check your tires: Make sure your tires have the correct air pressure; this could improve your gas mileage. Be prepared for anything and make sure you have a spare tire in your vehicle as well.
Check your brakes: Your brakes should be no less than 3 mm if so it is highly recommended to have them replaced.
Check your vehicle's air conditioner: The last thing you want is to be stuck in traffic for hours, on a hot summer day with no working air conditioner. Make sure you replace the air conditioner filters if needed.
Check battery, all fluid levels, hoses, and windshield wipers on your vehicle: Check EVERYTHING you would normally check your vehicle for before a road trip.
Evacuate early: Early meaning early in the day and early before everyone else. It is better to evacuate as soon as you know the hurricane will be affecting your area, otherwise as soon as evacuation is issued for your area. It is common to be stuck in traffic during evacuation warnings so leaving early will reduce the idle time you will spend in traffic which will increase your gas mileage. Also, driving early in the morning will reduce the warm temperatures you may experience on the road later during the day.
Have a safety kit: Have a kit in your vehicle that includes basic essentials you may need within a day's worth of time. The kit should include water, cash, imperishable food, medications, first aid kit, and toolbox.
Don't forget to make special trip accommodations if traveling with pets!
Reasons to take Comedy Driving Defensive Driving
Flexible Schedule
Email Delivery Available
Unlimited Log-ins
State Approved
No Final Exam
Animated Course
Free Audio and Video
Comedic Course
Live Phone Support
No Hidden Fee's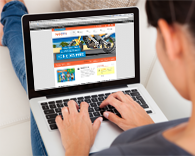 Ready to dismiss your ticket?
Social Share