Potter County Texas Defensive Driving
Jackpot, clay pot, cooking pot, or green pot will never compare to the home sweet home of Potter County of Texas. Small but mighty Potter County is known for people getting traffic tickets ranging from running stop signs, car collisions, and most definitely speeding due to not paying attention. Distractions are everywhere in Potter County, for example, the beautiful scenery of open land may put you in a daydream or cooking on your new George Foreman grill while driving could be very dangerous also. Comedy Driving advises that you pull over off the road and cook while you are outside of the vehicle. Changing clothes, paying bills, and arguing with your insane lover can also be very dangerous and cause you to get an unnecessary traffic ticket. The lovely people of this area demanded the best and that is why Comedy Driving created a Potter County Texas Defensive Driving course that is open 24 hours a day 7 days a week. If you have a traffic ticket and the court gave you permission to dismiss it with defensive driving, your next move should be your best move, sign up with the number one rated online company in Texas, Comedy Driving Inc.
During the signup process, you will be given a few different options of how you will receive your certificate of completion.  Our most popular option is email delivery.  If you choose email delivery, as soon as you have completed the course, you will be able to download a copy of the certificate and print it out.  Gone are the days of having to wait for it to arrive in the mail.  With that being said, our second most popular option is mail delivery.  Our standard mail delivery is processed the same day you complete the course and placed in the mail.  With this option, you should receive the certificate within 3-5 business days.  Whichever option you choose, it's the exact same certificate, so choose what's most convenient for you and will allow you enough time to turn it into the court.
If you have any comments, suggestions, or questions, our staff is more than happy to hear them. Just give us a call at (713) 465-0042 or email us at comedydriving@comedydriving.com.
Reasons to take Comedy Driving Defensive Driving
Flexible Schedule
Email Delivery Available
Unlimited Log-ins
State Approved
No Final Exam
Animated Course
Free Audio and Video
Comedic Course
Live Phone Support
No Hidden Fee's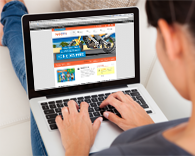 Ready to dismiss your ticket?
Comedy Driving is approved for all courts in Texas, including but not limited to, the following courts in and around Potter County.


Potter County TX Justice of The Peace Courts
Potter County
Precinct 1 Debbie Horn
900 S. Polk Suite 418
Amarillo, TX 79101
806-349-4880
Monday - Friday 9:00 - 5:00
Potter County
Precinct 2 Nancy Bosquez
500 S. Fillmore Suite 502
Amarillo, TX 79101
806-379-2390
Monday - Friday 9:00 - 5:00
Potter County
Precinct 3 Gary L. Jackson
13651 I-40 West
Amarillo, TX 79124
806-355-3070
Monday - Friday 9:00 - 5:00
Potter County
Prrcinct 4 Thomas Jones
500 S Fillmore Suite 302A
Amarillo, TX 79101
803-379-2817
Monday - Friday 9:00 - 5:00
Social Share