Pedestrians are everywhere; everyone is a pedestrian at some point during the day.  According to the Fatality Analysis Reporting System (FARS), found in the National Highway Safety Administration website (NHTSA), pedestrians injured per day in 2010 added up to 192, in 2011 totaled up to 189, and in 2012 to 208. These amounts average out to 71,662 pedestrian injuries for each of those three years. "On average, a pedestrian was killed every two hours and injured every seven minutes in traffic crashes," as stated by (Traffic Safety Facts: Pedestrians, April 2014).
As the NHTSA reminds us, "Whenever you are not in your vehicle, you are a pedestrian!"  Safety precautions must be taken by both drivers and pedestrians; everyone must be aware of their surroundings while driving or walking near roadways and vehicle traffic areas.
Driving safely means being alert near pedestrian crossing areas, school zones, shopping centers, and communities. It is important to follow the speed limit regulations and be prepared to slow down or make a full stop for pedestrians. Remember intersection lights and stop signs are designed not just to control vehicle traffic but also to pedestrian traffic. Be considerate, follow the laws, and make a full stop both for your safety and the safety of others.  Also, remember to stop your vehicles before the white lines at intersections which are designed specifically for pedestrians.
Pedestrians, just as drivers must do, you must also obey street signs and signals. Here are some pedestrian safety tips to create a safe environment for you and the drivers. Use the sidewalk at all times.  In areas with no sidewalk, walk as far from traffic as possible and always walk facing traffic. Use crosswalks and intersections for crossing roadways; avoid yourself a fine and the risk of being hurt. Whenever a crosswalk or intersection is not available for crossing, cross in areas with the least traffic and where you are fully visible to drivers from a distance. Make sure you look both ways before crossing; when possible make sure drivers can see you, don't just assume they will. It is recommended to wear bright clothing during daylight hours and reflective gear during the night time; it makes you more visible to drivers.
One last thing both drivers and pedestrians must obey, don't drink and drive or walk. You are part of the traffic one way or another.
Reasons to take Comedy Driving Defensive Driving
Flexible Schedule
Email Delivery Available
Unlimited Log-ins
State Approved
No Final Exam
Animated Course
Free Audio and Video
Comedic Course
Live Phone Support
No Hidden Fee's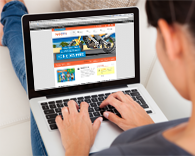 Ready to dismiss your ticket?
Social Share