Your day was going just fine cruising in Midland county, jamming the radio so loud and daydreaming caused you to press the accelerator over the posted speed limit and now your day is not so well because the officer writes a traffic ticket. No warning this time, are you serious? Yep, the cop did not have his morning donuts and he decided to go by the book today since you were going 5 miles above the posted limit. Midland county is popular for these types of tickets, don't worry you might get permission from the court to take a defensive driving class to dismiss the traffic violation. Midland may not have a tremendous amount of choices when it comes to finding a physical location for a driving safety class and that is the main reason why Comedy Driving has created a Midland County Texas defensive driving online course for this area. Our online course never closes, it's open 24 hours a day 7 days a week.
Why choose Comedy Driving?
Fastest certificate delivery options
No time restrictions – start and stop whenever you want
Email or mail delivery available
Most hilarious online course in Texas
You can complete our online course on your tablet, smartphone, ipad, or desktop computer from any location, like work or the comfort of your own home, and even at your in laws' house, because who really wants to listen to them anyway. Once you have completed the online course you will receive two copies of the certificate; one copy will be turned in to the court and the other copy can be used to get an auto insurance discount that may last up to three years depending on your insurance company. Comedy Driving can order your driving record for you and email it to you within 24 hours because eighty percent of Texas courts require this document also. Other companies may put you to sleep while taking their course due to the boring material but you do not have to worry about being bored with our online course due to the fact we created the course with the help of professional comedians. You will laugh so hard you will need to take a break.
If you have any questions about ticket dismissal or how to sign up please give us a call on our customer service line at 713-465-0042.
Reasons to take Comedy Driving Defensive Driving
Flexible Schedule
Email Delivery Available
Unlimited Log-ins
State Approved
No Final Exam
Animated Course
Free Audio and Video
Comedic Course
Live Phone Support
No Hidden Fee's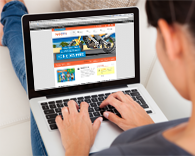 Ready to dismiss your ticket?
Social Share