Navarro County Texas Defensive Driving
Imagine you are driving through Navarro County by yourself on the interstate and all of a sudden your cell phone rings due to a text message from your special someone. You look down and see who it is and your liver quivers because it is the love of your life that you adorn. As you check your text you pass up a sign that reads "reduced speed ahead" and totally ignores the next signs where the speed begins to drop and out of nowhere you're in a small town still going 75 mph when the speed limit happens to be 45 mph. Now you are getting pulled over in a small county by a local police offer who writes you a traffic ticket. Great, now the love of your life can help you pay for it since it is their fault anyway. These types of situations occur every day in Navarro County and if you are lucky you will get permission from the court to dismiss the traffic ticket. Comedy Driving has created an awesome Navarro County Texas defensive driving course that will have you laughing the ticket away as you become a better-educated driver.
We understand traffic tickets are written every day in the whole state of Texas, so our Comedy Driving online defensive driving course is available 24 hours a day 7 days a week. You can sign up anytime and complete the course at your own pace. If you need to cook, clean, pick up the kids, or visit your in-laws and ignore them please do so. All you have to do is log out and when you are ready to begin just log in and the website will take you to the spot where you left off.
Our online course offers a few different shipping methods to receive your certificate.  Email delivery of your defensive driving certificate is the most popular choice.  This method allows you to download a copy as soon as you finish the course.  We also email a copy to you, in case you need to print it off at a later date.  If you prefer to have your certificate mailed to you, not to worry, we can send it that way as well.  If you choose regular mail delivery, you will receive the certificate about 3-5 business days after you finish the course.
Comedy Driving is approved by the Texas Education Agency and Region XIII which means our completion certificates are accepted by all courts in the state of Texas.
If you have any comments, suggestions, or questions, our staff is more than happy to hear them. Just give us a call at (713) 465-0042 or email us at comedydriving@comedydriving.com.
Reasons to take Comedy Driving Defensive Driving
Flexible Schedule
Email Delivery Available
Unlimited Log-ins
State Approved
No Final Exam
Animated Course
Free Audio and Video
Comedic Course
Live Phone Support
No Hidden Fee's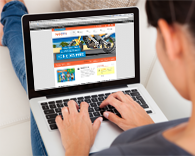 Ready to dismiss your ticket?
Social Share