Anyone who lives in Texas is no stranger to the "Don't Mess with Texas" phrase. As a matter of fact, it's something that Americans across the U.S are familiar with. Throughout the State, you will find it splashed across banners, bumper stickers, T-shirts and even on belt buckles. The phrase in itself has something of a pop culture touch to it and after a series of rejections since the time it was first coined by Tim McClure and promoted by George Bush, has now become a mantra that Texans live by.
"Don't Mess with Texas" is the slogan for the State's anti-litter campaign. Since 1985, it has accompanied numerous highway signs that announce littering fines & advertisements that encourage Texans to keep all their roadways clean. TxDOT is very serious about this campaign and wants to persuade litterbugs to stop throwing out trash while they are driving.
The TxDOT Initiative
It's possible for members of the public to report litterers via an online portal. TxDOT maintains a database and if it is able to find the matching address against a reported number plate, the government agency then sends a friendly warning-letter & litter bag to that alleged offender. The agency's database states that cigarette butts tend to be the most common type of litter reported and a number of people also noted the possibility of a wildfire erupting.
The Positive Impact
It's not uncommon to see people flicking out cigarette butts and other litter out of car windows while they are driving. This public education campaign is a great and impactful way of telling Texans that it's not okay to litter the state's roads and highways. The campaign has been quite successful and though there has been a reduction in roadside litter almost 50% of Texans still admit that they litter the place. It's against the law to litter in Texas. If a person is caught littering in Texas, the offender could be fined up to $500. A repeat offender may have to cough-up a fine of up to $2000+ 180-days of jail time.
Report Litterers
The best way to keep the state's roadways clean is to keep all trash from your car, in your car. Put in a bag or purse till the time you find a trash can. If you see someone littering on Texas roads, you can report a litterer, in which TxDOT will send a litter bag and a note to the driver with a reminder to not litter on Texas roads!
Reasons to take Comedy Driving Defensive Driving
Flexible Schedule
Rush Delivery
Unlimited Log-ins
State Approved
No Final Exam
Animated Course
Free Audio and Video
Comedic Course
24/7 Support
No Hidden Fee's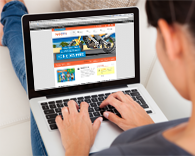 Ready to dismiss your ticket?
Social Share