Texas Finally Conquers Texting and Driving
Think twice about sending that text message, Texas.
After a long and turbulent journey, the texting and driving law we have all been waiting for makes its way to every road in the state. Laws against distracted driving are popping up all over the country and Texas will finally be on the list starting September 1st, 2017.
The fine for a first-time offender is $99 and if a driver gets caught again they'll pay $200 for being a repeat offender. These repercussions are steep financially but the dangers of sending texts behind the wheel are far more consequential.
According to TxDOT, distracted driving caused about 109,658 crashes in Texas in 2016 which was an increase from the 2016 totals. There are many ways a driver can lose focus on the road and phone use behind the wheel is the most common. Devices that can post to social media, send texts, and navigate for us make for an increase in the ways we can distract ourselves.
The Texas Department of Transportation suggests that you pull over if you want to make a phone call or send a text. You can go one step further and turn off your device entirely until your trip is over. It may also be helpful to let the people you communicate with know that you don't take calls or respond to texts while driving.
This law will only apply to sending electronic text messages and will take effect on September 1st. Until then, be aware of which cities have stricter local ordinances that could result in a citation. Texas also has a statewide ban on handheld cell phone use in school zones.
Practice safe, alert, and defensive driving. You don't have to wait for the law to take effect to be a safer more aware driver. Risking a crash or a fatality is normally not worth the consequences. You can learn more about preventing distractions here.
Reasons to take Comedy Driving Defensive Driving
Flexible Schedule
Email Delivery Available
Unlimited Log-ins
State Approved
No Final Exam
Animated Course
Free Audio and Video
Comedic Course
Live Phone Support
No Hidden Fee's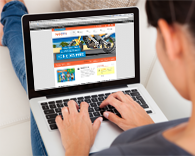 Ready to dismiss your ticket?
Social Share