2012 motorcyclist deaths
accounted for over 12% of all traffic crash deaths according the the NHTSA. Motorcycle deaths have been on the rise because there are more motorcyclists on the road, less riders are wearing protective gear, there are a greater number of inexperienced drivers, and most motorists don't watch out for motorcyclists.
According to the Texas Department of Motor Vehicles Administration, there were 470 motorcyclists killed in Texas in 2012. Of those killed, fifty-two percent were not wearing helmets.
Overall, the TXDMV report shows that both motorcycle accident deaths and injuries are on the rise across Texas and even the nation. On a per mile traveled basis, a motorcycle rider is about 35 times more likely to be in a traffic accident than someone in a passenger car according to the National Highway Traffic Safety Administration.
In Texas lawmakers are heeding the call to make changes. As of 2009 everyone must wear a helmet while riding a motorcycle, and in order to become a licensed motorcycle driver, you must complete a motorcycle safety course.
Texas is a motorcycle friendly state. With nearly 800,000 licensed motorcyclists in the state, whether you ride motorcycles or just share the road with them, all Texans can improve the safety of motorcycle riders by being vigilant and aware of their surroundings, including motorcycles, as they drive.
To be a safer motorcyclist, you can:
1. Wear a helmet and other protective gear
2. Turn on your headlights and ride defensively
3. Avoid the center of the lane
4. Wear bright colored clothing
5. Avoid distractions
The best way for motorcyclists to protect themselves against death and injury is to wear full motorcycle helmets and proper protective clothing when riding and to drive defensively as taught by the Texas Department of Public Safety and Comedy Driving.
Did you get a ticket on your motorcycle in Texas? Take our Texas Defensive Driving Class to get your ticket dismissed!
Reasons to take Comedy Driving Defensive Driving
Flexible Schedule
Rush Delivery
Unlimited Log-ins
State Approved
No Final Exam
Animated Course
Free Audio and Video
Comedic Course
24/7 Support
No Hidden Fee's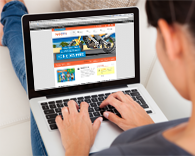 Ready to dismiss your ticket?
Social Share