Texas DMV Adopts Single Sticker System
Since the 1950's the Department of Public Safety have required Texas motorists to display a sticker on the vehicle windshield, which established a valid safety inspection status. In May of 2013, the Texas Senate passed Bill 1350, therefore combining the process of attaining vehicle inspection and registration. As a result, one sticker will signify official confirmation of registration and approved inspection.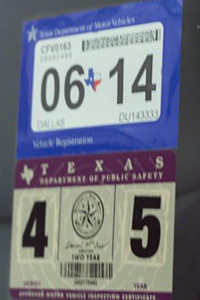 Effective March 2015, the new program obligates Texas car owners to have their vehicle inspected as a prerequisite to renewing vehicle registration. If a vehicle passes the annual safety inspection there will be no sticker issued as validation. Instead, the Vehicle Inspection Report (VIR) will be updated to the Texas DPS database electronically. The inspection station will also issue a paper copy of the report for the automobilist's records. As a stipulation, a vehicle must be inspected 90 days prior to the registration expiration date.
Once a vehicle has cleared inspection it may be registered by mail, online, or in-person in the usual fashion. The digital record of your inspection will be verified by the DMV computer system portal. This means a motorist will not be able to register an uninspected vehicle with the state. If your vehicle's inspection is valid at the time of your first single sticker registration you will not be required to have the vehicle inspected the next registration's expiration date.
The new program benefits Texas motorists to only keep up with on expiration date instead of two.  Furthermore, the state expects to save an estimated 2.1 million in taxpayer money due to less paperwork and sticker costs. Texas will be the 28th state to adopt the rules of a single sticker system as it aids to reduce the potential for fraudulent tags and inspection sticker theft.
Reasons to take Comedy Driving Defensive Driving
Flexible Schedule
Email Delivery Available
Unlimited Log-ins
State Approved
No Final Exam
Animated Course
Free Audio and Video
Comedic Course
Live Phone Support
No Hidden Fee's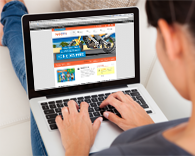 Ready to dismiss your ticket?
Social Share