Being unprepared is all too common amongst drivers. Sometimes we manage to forget our driver's license or forget to pay our auto insurance. Other times we might forget our own head if it wasn't attached to our bodies. All across the great state of Texas, there are too many individuals who are unprepared for emergency situations. Let's review the importance of keeping the right junk in your trunk. "Junk in the trunk" can stand for different things. Let's focus on items that help prevent a lot of stress and wasted time. Certain items belong in the trunk of the vehicle, especially on long road trips where anything could happen; a flat tire, doors flying off, timing belt malfunction, transmission explosion, or the engine falling out from running over a chupacabra. Who knows?
Here's a list of some good items that may come in handy just in case an emergency situation arises:
Jumper cables: You never know when you are going to need them. For example, let's say you bring your vehicle to a stop in a desert because "you saw something, " so you turn off your car. Batteries are susceptible to extreme temperature and you cannot always avoid the situation of your battery succumbing to a bad environment. Batteries can work one minute and die the next. Sure, you bought a 5 year extended warranty, but that does not mean that your battery will last five years. Always have your battery regularly checked, and have jumper cables handy in case the battery dies.
Flashlight: If your car breaks down, or in case you'd like to take a look at the chupacabra that you just ran over. You are not going to be able to take pictures of it if you cannot find it in the dark. Have a flashlight ready in your vehicle in case you have an emergency in the dark.
Umbrella, Raincoat, or Towels: These items sort of work in conjunction with one another. You can get the umbrella so you don't get wet. You can put the raincoat on the chupacabra once you find it, and you can dry him off with the towels once he is in your car. Seriously, who wants to get wet while changing a tire, running into the grocery store, or while trying to help others in a bad situation? The trunk of a car has a purpose and having these items will help serve its purpose.
Water: Ok, so most chupacabras will be found in the dead of night in the desert. Most sightings are in New Mexico, Texas, and Arizona. Not states like Alabama or Mississippi. If you just ran one over, it's obviously going to be thirsty because it's in the desert. Don't let him die now! Water is a good idea to keep handy because a car, passengers, and even you may need a drink if you are on long trips.
Reasons to take Comedy Driving Defensive Driving
Flexible Schedule
Email Delivery Available
Unlimited Log-ins
State Approved
No Final Exam
Animated Course
Free Audio and Video
Comedic Course
Live Phone Support
No Hidden Fee's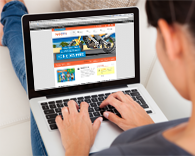 Ready to dismiss your ticket?
Social Share