Traveling: Flash Flood Safety
A flash flood is defined as a sudden overflow of water in a concentrated area which is usually due to excessive rainfall. In the United States, flash flooding is the leading cause of weather-related deaths. Considering the fact that a flash flood can develop within a matter of minutes, it is especially important to be prepared with the proper knowledge in order to handle the situation as safely as possible.
Local weather service agencies issue a Flash Flood Watch to ensure that local residents may stay alert and prepare to evacuate when flooding is likely to occur.
During a flash flood, you must be prepared to act quickly because water can rise to a life-threatening level in just a few minutes.
Traveling: Flash Flood Safety Tips:
It is not always necessary to drive during a flash flood. Use your best judgment.
Do not attempt to estimate the depth of water on a roadway. The only way to guarantee your safety and avoid being stranded is by not driving through any flood water, just find another route or wait to travel.
Water easily hides dips and holes in the roadway. Even worse, there may not be a road at all under the water, as flooding can easily uproot a road and wash it away along with the ground beneath it.
It is never safe to drive on a water-filled roadway. Just a mere six inches of water can cause almost any vehicle to slide and lose control and can be certainly swept away.
If you are in a vehicle during a flash flood it is best to exit the vehicle as quickly and calmly as possible. If the water has risen above the door, it is best to exit the vehicle through the window.
It is always a good idea to carry a special hammer for breaking vehicle windows just in case you are unable to open your window. A flashlight may also be helpful if you become stranded on a street at night with no lights.
If possible, be mindful of keeping your cellphone dry so that you may call for help if the situation becomes dangerous.
If you find yourself in a flash flood, the first step is getting to higher ground safely.
Reasons to take Comedy Driving Defensive Driving
Flexible Schedule
Email Delivery Available
Unlimited Log-ins
State Approved
No Final Exam
Animated Course
Free Audio and Video
Comedic Course
Live Phone Support
No Hidden Fee's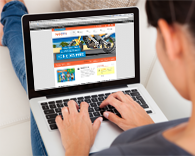 Ready to dismiss your ticket?
Social Share