Jefferson County Texas Defensive Driving
Comedy Driving offers a fully online course approved for Jefferson County Courts. Whether you're in Beaumont, Port Arthur, Nederland, or Port Neches we've got you taken care of.
Our Jefferson County Texas Defensive Driving course is 100% animated and involves humor as you learn more about driving safety. Unlike traditional defensive driving courses, our instructors are professional comedians, they will have you awake and laughing through the entire course.
To facilitate learning, the course is broken down into multiple sections. You are given a few questions after each section, which make up for the final exam that is not included at the end of the course. Not only is the course fun and simple, but it is also flexible around any schedule. Anyone from a college student to a stay at home mom is able to work on the course on their own spare time and is guaranteed to enjoy it.
You may take the entire 5 hours of education a section at a time, or all at once; it is your choice. There is no need to worry about losing your work or time spent on the course, everything is saved automatically as you go.
Once you've completed the course, you can receive your certificate immediately if you choose the email delivery.  This will allow you to print your certificate rather than waiting for it to arrive in the mail.  However, if you prefer regular mail, we have that option as well.  With regular mail, you will receive your certificate about 3-5 business days from your completion date.  Whichever shipping option you choose, you will receive two copies of the certificate, one for the court and one to submit to your insurance company for a potential insurance discount.  Make sure to sign the court copy before turning it in.  If you turn it in without your signature, it will be rejected by the court.
To view course samples, or register for our Driving Safety course by selecting "Sign Up for Online Course" on our homepage.
Reasons to take Comedy Driving Defensive Driving
Flexible Schedule
Email Delivery Available
Unlimited Log-ins
State Approved
No Final Exam
Animated Course
Free Audio and Video
Comedic Course
Live Phone Support
No Hidden Fee's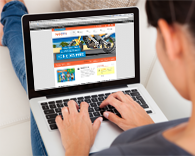 Ready to dismiss your ticket?
Social Share