Webb County Texas Defensive Driving
Comedy Driving Inc offers a statewide certified online Driving Safety course. This course is valid for any court and county in Texas, including Webb County. Comedy Driving is accredited by the Texas Education Agency and Region XIII Education Service Center; holding one of the highest BBB ratings.
Taking the course with Comedy Driving is simple. Everything, including registration and payment, is done completely online, at our website. The registration process consists of 4 simple steps.
Our Webb County Texas Defensive Driving course can be taken for multiple reasons; whether it is for insurance, to dismiss a ticket, or for work purposes. However, if you take it for ticket dismissal or work purposes, we include the insurance discount certificate for free.
Comedy Driving aims at providing the funniest yet educational Driving Safety course in the state. For that same reason, we have a full five star-staff of professional comedians certified as Defensive Driving instructors. They make sure you laugh as you learn more about driving safely. To make sure students enjoy the course, the entire course is also fully animated. Taking the course with us is as easy as watching a cartoon show marathon.
Rather than having to stress out over an exam at the end, the course is set up to where you test as you go; there is no final exam. An additional feature of taking the online course is that it is all self- paced, to where you take it on your own time. The course may be completed all at once or in as many sittings as you'd like. Mold the course around your own schedule!
For students' convenience, our friendly customer service and technical support team is available at (713) 465-0042.
Reasons to take Comedy Driving Defensive Driving
Flexible Schedule
Email Delivery Available
Unlimited Log-ins
State Approved
No Final Exam
Animated Course
Free Audio and Video
Comedic Course
Live Phone Support
No Hidden Fee's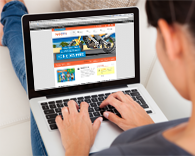 Ready to dismiss your ticket?
Social Share