How to Handle a Situation Involving an Aggressive Driver
Many of us have been in a situation where an aggressive driver is riding your bumper and attempting to make you move out of their way. So you look at your odometer and realize you have already accelerated your speed to appease the driver behind you but apparently that's not enough. Now, the driver is flashing their lights and honking their horn for you to move out of their way.
In this situation, it is very important to remain calm and not become engaged in this aggressive behavior, which adds more danger to the roadways.
Here's what not to do in this situation.
1. Do not slam on your brakes. Slamming on your brakes is dangerous and could cause the driver to hit you or someone else on the road. This might even make the driver even more aggressive and you may then have gone from someone they wanted to move out of their way, to a target for revenge.
2. Do not slow down. This driver is not reasonable and will not take your hint for them to slow down.
3. Do not block the driver from passing you. Doing this will annoy this driver causing them to possibly look for other ways around you such as using the shoulder lane, or recklessly changing lanes cutting off other drivers.
4. Don't make the situation worse by using offensive hand gestures or yelling out the window at this driver.
Here is what you should do in this situation.
If you find yourself in an aggressive driving situation, don't panic. If you are able to change lanes, put on your turn signal and do so safely. Your turn signal is a clear communication to the driver of your intention to move out of their way. If you are on a two-lane street unable to switch lanes, if there is a shoulder, use your turn signal and safely proceed to the shoulder lane to allow the driver to pass.
If you are interested in taking a Defensive Driving online course, sign up through our homepage. Comedy Driving will educate you on smart driving techniques to avoid accidents caused by aggressive driving of others.
In 2011 the NHTSA reports show 9,080 fatalities due to driving too fast for conditions or in excess of the posted limit, and 2,604 fatalities due to operating vehicles in an unpredictable manner.
If you feel that you or someone else may be in danger because of an aggressive driver, call 911 to make a report.
Reasons to take Comedy Driving Defensive Driving
Flexible Schedule
Email Delivery Available
Unlimited Log-ins
State Approved
No Final Exam
Animated Course
Free Audio and Video
Comedic Course
Live Phone Support
No Hidden Fee's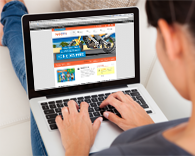 Ready to dismiss your ticket?
Social Share