Following Distance vs Reaction Distance
Reaction abilities are tested to their limits when speed is a factor. A driver may react quickly enough to engage the brakes; however, the vehicle is limited by the laws of physics in how fast it can actually stop.
Reaction distance is how far your car travels in the time it takes the driver to react to a hazard and step on the brake. Braking distance is how far your car travels from the time the brakes are applied until it comes to a complete stop. Total stopping distance is the combined distance of reaction distance and braking distance. It takes the average person half a second to think and another half a second react and apply the brakes.
That is why most drivers are recommended to give two seconds of empty space between them and other motorists. The two-second safe following distance rule is used to make sure the distance between your car and the car ahead of you is large enough to allow you to stop or swerve around the other car if it stops suddenly.
The two-second-interval rule requires that you stay at least two seconds behind the car ahead. Two seconds is the minimum distance and applies to cars moving thirty-five miles per hour or slower. As your speed increases, the number of seconds you should put between you and the car ahead of you should also increase. The distance between you and other vehicles should also increase in bad driving conditions.
To determine your following distance, choose a fixed object along the road such as a sign. When the rear of the vehicle ahead passes this object, begin counting. After counting two seconds (one thousand one, one thousand two) check the position of your car. If the front of your car is even with the fixed object, you are just two seconds behind the car ahead. If you have passed the object, you are following too closely. To increase your following distance just slow down and count again to confirm.
Information provided for this article was provided by Comedy Driving, Inc, a Texas Defensive Driving School. Our defensive driving course is not just for dismissing tickets, it is also for learning safe driving techniques like safe driving distance and more.
Reasons to take Comedy Driving Defensive Driving
Flexible Schedule
Email Delivery Available
Unlimited Log-ins
State Approved
No Final Exam
Animated Course
Free Audio and Video
Comedic Course
Live Phone Support
No Hidden Fee's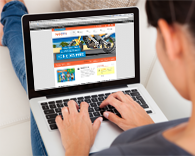 Ready to dismiss your ticket?
Social Share