Tips to Drive Safer at Night
Many people hate night-driving and it's not really a great feeling to get someone's high-beams shining right into your eyes when you are making every attempt to focus on the road in front of you. But apart from the annoyance factor, very few people realize just how dangerous this can be. As per the NHTSA, road fatalities take place at a rate 3-times higher at night compared to the daytime.
How You Can Drive Safer
The fact is that driving in the dark is extremely dangerous, regardless of whether the weather is good or not.  Driving between 12am and 6am is the most dangerous time (especially on weekends). Here are a few good driving tips that will help you drive safer at night:
Headlights: Most speed-limits are set for day driving, and clear and dry weather conditions, not for night driving. When you are using your headlights, they should light up the road just in front of you; for around 4-seconds of headway. In case your headlights do not have a very strong beam, it's best that you to slow down
Check Lights: Before you set out to drive at night, run a quick check on all the exterior lights (front and rear, high beams and brake lights) and ensure that they  are working properly
Windows: Make sure that your windshield and windows are clean (inside and outside). Dirty windows add to glare and impair vision, which makes it much more difficult to see clearly
High Beams: Avoid using high-beams in foggy weather; these reduce your ability to see and might temporarily blind other motorists too. Avoid flashing high-beams at other cars that have their high-beams on; this affects their visibility as well as visibility of other motorists
Rear-View Mirror: Adjust the rear-view mirror properly to avoid any reflection of other car's headlights. Most vehicles have the 'day or night' rear-view mirrors which can be easily tilted to reduce glare
Interior Lights: Avoid using the car's interior light while you are driving, if you have to check the map, pull over safely to the side of that road first
Drive Safe
Watch for any flashes of light at intersections, bends in the road, etc; these could indicate headlights of other vehicles. Maintain a safe distance between your vehicle and those in front of you. Avoid night driving if you are tired, as this can hamper your concentration.
Reasons to take Comedy Driving Defensive Driving
Flexible Schedule
Email Delivery Available
Unlimited Log-ins
State Approved
No Final Exam
Animated Course
Free Audio and Video
Comedic Course
Live Phone Support
No Hidden Fee's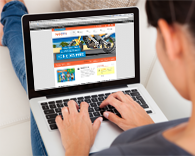 Ready to dismiss your ticket?
Social Share