The Journey of 3D Printed Cars
The magic of printing three-dimensional matter was first seen in the 1980's when Charles Hull introduced the Stereolithography printing technique. He founded a company called 3D Systems that is still up and running today. In the early days of printing three dimensions parts were produced to assist in manufacturing. As accessibility has increased, the nearly endless options available to us through 3D printing have been unlocked.
By the 2000's, the same thing that helped us manufacture parts for machines was doing the very same thing for bodies. Organs were being developed in labs with the help of 3D printers. That led to the popularity and then mainstream of use of these seemingly magic printers by smaller companies by about 2008. In 2011, the first 3D printed aircraft hit the skies and was closely followed by the world's 1st car made entirely out of 3D printed materials.
The jumps in this industry have increased vastly. You can even buy a 3D printing pen for about $100 and make your own multidimensional doodle creations. The medical and vehicle options will no doubt change the way we heal and travel. Using 3D printing technology for cars can reduce material waste, change the way we consume fuel, and provide affordable cars to everyone worldwide. Local Motors is making history with its printed vehicle technology.
The fastest turnaround time from design to building the car itself was with the road-ready LM3D, it was completed in about 2 months. With an unprecedented ratio of print materials to non, 75% if the car is printed. The goal is to make that 90% as soon as it can be viable. This compact low to the ground design is comprised of mostly of ABS Plastic.
The thing is made of plastic and you want me to think that it's safe? Local Motors places a high priority on crash testing and plans to design these machines to protect you better than even a traditional vehicle could. The perks of starting from scratch for the design mean that the customization of safety holds endless possibilities.
The integration of technology is the solution for safety and convenience. A partnership with IBM keeps these prototypes ever-evolving with lifesaving and downright cool features that will keep drivers protected and connected. You can actually contribute to the release by providing ideas and completing tasks through their crowdsourcing portal. Expect to see Local Motor's most exciting vehicle available for purchase at around $53,000 in early 2017.
Reasons to take Comedy Driving Defensive Driving
Flexible Schedule
Email Delivery Available
Unlimited Log-ins
State Approved
No Final Exam
Animated Course
Free Audio and Video
Comedic Course
Live Phone Support
No Hidden Fee's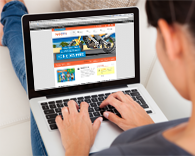 Ready to dismiss your ticket?
Social Share