10 Ways to Deter Break-Ins to Your Vehicle
Vehicle break-ins can occur at any time during the year but criminals are extra vigilant during the part of the year that most of us consider the holiday season. A criminal's actions are considered stupid and inconsiderate to most of us, but the criminals themselves may not be as dumb as you think.
We have to try to outsmart a criminal, unfortunately, they have to find a way to evolve themselves and outthink us. Gone are those days that you could simply hide your money and your wallet at the front part of your shoe so that you can swim at the beach. Nowadays, not only will they take your wallet, but your shoes as well. How can we be a little safer from these crooks? There may not be a way to be 100% safe, but there are some things we can do, to decrease the chances to fall victim to these opportunistic criminals.
Here are 10 ways to deter break-ins to your vehicle:
Lock your car. It can't get any easier.
Get a car alarm. There are many brands and options available that can match your specific needs.
Make sure you park in well-lit areas with high traffic.
Try to limit the type of valuable items you carry in your vehicle.
If you have to have valuables in your vehicle, make sure you have a location that can lock you can lock your valuables safely. Make sure you hide your valuables.
Try not to advertise what you may be carrying. If you have license plates, any car stickers or tags that state you belong to an organization (gun club, cellphone store, jewelry...etc). Thieves are now targeting gun owners and look for anything that lets them know there could be a gun inside this vehicle. A break-in can occur where they know that you are not permitted to carry your gun inside. Likewise with other information that can tip thieves.
Try not to shop in the evening when it is dark.
Do not shop at multiple stores and use your vehicle for storage as you go in and out stores. Try to break up your shopping into multiple trips so that you do not leave gifts or other valuables in the vehicle.
Try shopping online and have your items delivered straight to you. Many retailers offer free shipping or other incentives for shopping online. This way you avoid having to drive entirely.
Watch where you park. Parking further away from high volume areas leaves your vehicle vulnerable and an easy target for thieves. If you park in an area where you leave your vehicle alone for a longer period of time, perhaps paying for parking where there is a security watch is a better option.
Reasons to take Comedy Driving Defensive Driving
Flexible Schedule
Email Delivery Available
Unlimited Log-ins
State Approved
No Final Exam
Animated Course
Free Audio and Video
Comedic Course
Live Phone Support
No Hidden Fee's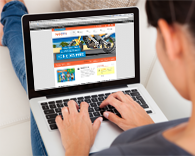 Ready to dismiss your ticket?
Social Share