July Is Watch Your Car Month
July has been historically documented as the peak period for auto crimes, and as a result, the Texas Department of Motor Vehicles has officially declared July as 'Watch Your Car Month' to help Texans make wise choices in regards to auto crime prevention.
According to the Texas Crime Analysis Report, a vehicle is burglarized every 2 ½ minutes. For the year of 2012, the same report documented 64,982 vehicles stolen which averages 1 every 8 minutes. Almost half of the vehicles stolen were a result of the keys being left inside while the vehicle was left unattended. Below are some preventative methods for auto crime.
Always take your keys with you and lock the vehicle
Never leave the car running when you are not occupying the vehicle
Park in high traffic areas that are well lit
Take valuables with you instead of leaving them in the car
If you must leave valuables, keep them out of sight by placing them in the trunk or locked glove compartment
During 'Watch Your Car Month' the Austin Police Department Auto Theft Interdiction Project will be offering Austin residents the opportunity to have their vehicle identification number (VIN) engraved on several areas of an automobile at no cost. Etching the vehicle identification number (VIN) in additional locations throughout the vehicle is said to deter thieves from stealing your car because they are often trying to make a quick sale or cash in on all the retrievable parts. As of July 2014, the Texas DMV has provided a list of the 10 most stolen vehicles in order;
1. Ford pickup
2. Chevrolet pickup
3. Dodge pickup
4. Chevrolet Tahoe
5. Honda Civic
6. Honda Accord
7. GMC pickup
8. Chevrolet Impala
9. Toyota Camry
10. Nissan Altima.
If your car is stolen, report it to the police immediately and prepare to provide them with your vehicle make, year, model, color, vehicle identification number (VIN), and license plate number to increase chances for vehicle recovery.
Reasons to take Comedy Driving Defensive Driving
Flexible Schedule
Email Delivery Available
Unlimited Log-ins
State Approved
No Final Exam
Animated Course
Free Audio and Video
Comedic Course
Live Phone Support
No Hidden Fee's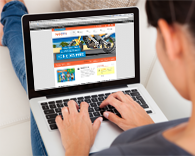 Ready to dismiss your ticket?
Social Share