Your Corporation Can Benefit From Taking Defensive Driving
A successful business that requires driving can be expensive to maintain at times but there are ways to reduce expenses and liabilities. Driving is an expense and driving is a liability to your company. How can you reduce the risk when mistakes and accidents may ultimately going to occur? The answer is simple, just take defensive driving with Comedy Driving Inc. Most corporations and individuals assume defensive driving is required only for those who get speeding tickets, run stop signs, or get into a traffic accident. All of this is very true but no one ever mentions how much money could be saved on insurance by attending a defensive driving course. Not only can individuals save on insurance costs but your company can also save money on corporate insurance costs as well. The most important detail your corporation can benefit from taking defensive driving with Comedy Driving Inc, it's the knowledge your employees will gain and an increase in better driving decisions. We live in a world of continuous multitasking and no one talks about how driving is a multitask.
Imagine your company has $500k worth of toilets that need to be at a certain location by 10 AM Monday morning. Suppose the driver for your company gets on the road in time and all of a sudden a vehicle cuts him off. This sudden action causes your driver to overreact because he was on his cell phone, eating his breakfast taquito, slapping a fly out of his face, admiring the beauty driving next to him and his allergies had him sneezing back to back! An accident occurs and toilets are all over the road which causes 4 additional traffic accidents, 6 injuries, and one fatality. This is a big pile of "you know what" and actually it's a big pile of toilets, the same difference. How much is it going to cost your company to pay for all of this? It would be a lot better if the company could turn back the hands of time and have all drivers attend and complete a Texas state-approved defensive driving course provided by Comedy Driving Inc.
Comedy Driving Inc. will supply a tremendous and very hilarious six-hour course to your company. Many individuals dread the thought of attending a six-hour course because they have never taken the class with Comedy Driving Inc. Our instructors are trained professional comedians who have a sense of humor, that is out of this world, which makes the time pass by very quickly. We believe that laughter is a great way to learn and a wonderful way to stay awake and pay attention. We can provide the course at your location or your company could attend one of our four locations in Houston, Tx. If this idea of attending a location is no good, then we offer an online course that is available 24 hours 7 days a week. Your employees can enjoy the benefit of logging in and logging off whenever they need to. For example, they can take 30 minutes to an hour right now and log off when they want to. When they are ready to begin again just log back on and the website and it will take them to the spot where they left off. For more info call us at 713-465-0042 or go to comedydriving.com.
Reasons to take Comedy Driving Defensive Driving
Flexible Schedule
Email Delivery Available
Unlimited Log-ins
State Approved
No Final Exam
Animated Course
Free Audio and Video
Comedic Course
Live Phone Support
No Hidden Fee's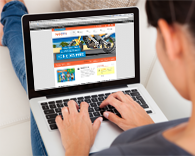 Ready to dismiss your ticket?
Social Share