How to get a speeding ticket off your record?
How to get a speeding ticket reduced?
- The easiest option is to take a traffic school or defensive driving class.
Taking a driving safety class like defensive driving or traffic school is one of the cheapest methods of ticket dismissal. Classes range in price depending on the state you take the course in but many are between $25 and $35 dollars. The length of the course is: 6 hours total in Texas, 4 hours in Arizona, and 4 Hours in Florida. Be sure to pick a school that has a valid state license for the same state your ticket is in.
- Court costs are often reduced.
The court fees are often reduced by dismissing the ticket with a class. As long as you meet the ticket dismissal requirements you can avoid having to pay the full ticket court costs.
- The ticket is kept off your driving record.
By dismissing the ticket you also keep the violation from showing up on your driving record. A clean driving record can result in lower insurance premiums. Many states also have a point system where tickets that end up on your driving record add driving record points that last for several years. If you get too many points that state may either suspend your license or charge the motorist a yearly reinstatement fee in order to keep the driver's license valid.
- Insurance rates do not drastically increase.
Insurance companies often check motorist's driving records before renewing their policy. Any bad marks such as traffic tickets can result in a higher insurance premium until the ticket falls off the driving record. Many motorists take traffic school and defensive driving classes strictly because of the high insurance increase that results from a traffic ticket.
How to get a speeding ticket off your record?
- Decide your method of dismissal before paying off the traffic ticket.
- Defensive Driving or Traffic School is often an option depending on the ticket being dismissed.
Courts often allow an individual to take a defensive driving class at a traffic school in order to dismiss the ticket. Dismissing a ticket keeps the ticket from going onto your driving record. Defensive Driving Classes range in length depending on the state.
- Sometimes deferred adjudication is an option that often requires a probationary period and or traffic safety class.
Deferred adjudication is another way to dismiss a traffic ticket but this method of dismissal may require a probationary period. During the 30 to 90 day probationary period, no additional traffic citations may be received. If a person gets a ticket during the probation period the ticket they are trying to dismiss with deferred adjudication will be put on the person's driving record and they may be required to pay the rest of the court fees.
- Communicate to the court how you would like the case to be dismissed.
The officer may offer suggestions on how to dismiss the traffic ticket but ultimately the court decides the acceptable form of dismissal for the violation. Since the court decides if a ticket can be dismissed it is important that you confirm your options of ticket dismissal with them first before proceeding. Many courts often require you to first pay court fees then they give you between 60 and 90 days to meet your terms of dismissal.
- Take the class as needed.
If traffic school or defensive driving is required to dismiss your traffic ticket it is important that you take your class as soon as possible. Some schools must mail you your completion certificates so you need to finish the course early to allow for time to receive the certificate in the mail. If you do end up putting the course off till the last minute many courses do offer overnight options for certificate delivery at a reasonable price.
- Get the completion document to the court before the due date.
After you receive the certificate from the school you need to turn that paperwork into the course either by mail or in person. The certificates must be received on or before the due date. If you will not be able to turn the information in on time you would need to contact the court to see if they can offer a due date extension. Then after the documents are received by the court they will dismiss the ticket ensuring that no points are added to your driving record.
Reasons to take Comedy Driving Defensive Driving
Flexible Schedule
Email Delivery Available
Unlimited Log-ins
State Approved
No Final Exam
Animated Course
Free Audio and Video
Comedic Course
Live Phone Support
No Hidden Fee's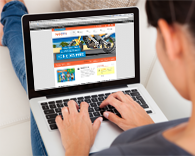 Ready to dismiss your ticket?
Social Share