Uvalde County Texas Defensive Driving
Did you and a group of friends decide to take a last min trip to the Concan Swimming Hole for a weekend getaway? You guys did a little bit of swimming, tubing, playing volleyball, and enjoying some good food. As you guys are leaving and heading home you happen to run a stoplight and a police officer pulls you over and gives you a traffic citation. You're in a town that you are not familiar with and you are super stressed because you don't have the time to drive back to the court for your court date. Here's what you can do; wait 7 business days after the citation is given to you. Contact the court and let them know that you do not live in Uvalde County but you would like to take a defensive driving course to dismiss the ticket. The court will then have you pay a fee to the court, once you pay your court fees the court will give you 90 days to complete the course and turn it into them.
This is where we come into place, here at Comedy Driving we provide an online Uvalde County Texas defensive driving course. We are approved by every court and county in the state of Texas. To take the course you can use your computer, laptop, tablet, or smartphone. The course is available 24/7, meaning you can log in and out of the course as many times as you need to. We also provide a type 3A driving record, your court may or may not need the driving record but you would need to look at your court information to determine that.
Simply go to our website comedydriving.com, and click on the option that says sign up for an online course. Once you do that it will walk you step by step on filling out all of the required information or you can give us a call at 713-465-0042 so we can do it for you.
Reasons to take Comedy Driving Defensive Driving
Flexible Schedule
Email Delivery Available
Unlimited Log-ins
State Approved
No Final Exam
Animated Course
Free Audio and Video
Comedic Course
Live Phone Support
No Hidden Fee's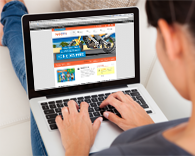 Ready to dismiss your ticket?
Social Share