Senior Driving: Risk Awareness
As we age, it is natural for our bodies and mind to undergo numerous physical changes. It is imperative to recognize these changes and understand how they affect our driving abilities and overall safety on the roadways.
Out of all five senses, your eyesight is the most essential when it comes to the task of driving an automobile. Without clear perception, it can be impossible to properly assess distance, identify problems on the roadway, and react in a timely manner. As your vision becomes diminished so does your ability to drive safely. You may be able to see clearly, leading to a false sense of security, but your capability to judge distance is unknowingly distorted as your eyes become older, especially when driving after dark. Because declined vision can go unnoticeably, it is imperative for senior drivers to stay up-to-date with annual eye examinations.
Similarly, drivers over the age of 55 begin to experience a decline in cognitive function which regards a person's ability to process incoming information, decision making, and reasoning. Cognitive impairment also minimizes a person's awareness of surroundings which is highly life-threatening when operating a motored vehicle as fast-paced surroundings change constantly. Unfortunately, most seniors are not capable of evaluating their own ability reliably and will continue to drive although it is unsafe to do so. In this situation, seniors must rely on family and friends discretion to retire their driving and arrange alternative transportation methods.
Furthermore, senior drivers are subjected to slower reaction time, which significantly increases the risk of collision. Commonly, pain or stiffness in muscles and joints among elder drivers can increase the amount of time it takes to respond to dangerous driving situations.  In order to compensate for increased reaction time, the National Institute on Aging suggests for seniors to leave a larger following space between the cars ahead.
The good news; there has been 31% fewer fatal car crashes involving senior drivers between the years 1997 and 2012, according to the Insurance Institute for Highway Safety. With a purpose to continue the decrease of fatal accidents involving older drivers, it is admirable for seniors to drive fewer miles, avoid driving at night and during inclement weather that alters the roadway conditions. Certainly, it is always helpful to take a defensive driving course to refresh knowledge and awareness as operating a motor vehicle is a skill that should be continually updated.
Driving is a demanding activity that involves great use of cognitive functions and senses that inconveniently diminish with age. In response, it is vital to be proactive and evaluate driving ability regularly among older drivers. Sign up for our Defensive Driving course to learn tips for driving safely, which can prevent road accidents!
Reasons to take Comedy Driving Defensive Driving
Flexible Schedule
Email Delivery Available
Unlimited Log-ins
State Approved
No Final Exam
Animated Course
Free Audio and Video
Comedic Course
Live Phone Support
No Hidden Fee's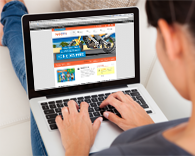 Ready to dismiss your ticket?
Social Share