Pet Passenger Safety Awareness
Traveling with your pet can be an amusing and delightful adventure for you both, though it is incredibly important to be mindful of your furry friends' safety in the same way you would your own children.
Typically, most pet owners are seen traveling with their pets unrestrained; frolicking about the vehicle in a fit of joy. Certainly, this behavior is just as dangerous for a pet as it is for a human, therefore, this matter should be taken quite seriously.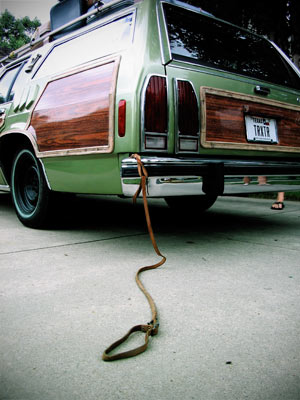 Animals are not capable of bracing themselves for swerves, turns, and sudden stops while you are driving, and they can easily be thrown against the windows, dashboard, and floor. According to the American Automobile Association (AAA), if you are traveling 30mph, slamming on the brakes will cause a 50-pound dog to be thrown forward at the equivalent force of being pushed by nine adult-men.
Indeed, an improperly restrained pet can be one of the biggest distractions when driving, which is why Comedy Driving recommends the use of an automobile pet-restraining-device such as; a securely fixed and well-ventilated crate, or a special pet seat-belt, which are both inexpensive lifesavers. Crates should be doubled checked and securely-fixed for stable placement, otherwise, you will be jeopardizing your pets' safety during vehicle movement which causes the cage to shift and slide. Pets should be retained in the back-seat to reduce the potential for distraction. Allowing your pet to sit in your lap while you operate your vehicle is a perilous recipe for disaster. Most pets actually feel more comfortable when they are secured; in the same way, you feel when you wear your seat-belt.
Lastly, no matter what the circumstance, there is never a reasonable explanation to leave your pet unattended in your vehicle. Even if you leave the windows open, your pet is still in danger if left alone. According to the ASPCA, a car's interior heats up to 100°F in just 10 minutes on an 80°F day.
If you plan to take your pet with you, these aforementioned pet passenger safety awareness precautions will ensure your travels to be safe and enjoyable for you and your pet. Please feel free to leave any driving safety tips involving pets in our comment section!
Reasons to take Comedy Driving Defensive Driving
Flexible Schedule
Email Delivery Available
Unlimited Log-ins
State Approved
No Final Exam
Animated Course
Free Audio and Video
Comedic Course
Live Phone Support
No Hidden Fee's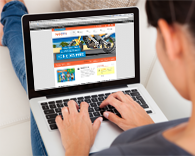 Ready to dismiss your ticket?
Social Share