In your best magical on-stage magician voice say aloud the following command, "You are getting sleepy and your muscles are relaxed and your eyes are slowly closing." Do you know the secret to why this works on people who want to be hypnotized? Here is the secret why the command works; the person who is being hypnotized is actually sleepy. They are tired, their body has been through a very long day and they need some rest. In other words, they need to go night-night. Sleep is extremely important in life and especially when operating a motor vehicle. When the body is tired, the body will shut down. Sleep is how we recharge from the day, our batteries run low and the only remedy is a good night's rest. Sleep experts who are employed here at Comedy Driving Inc suggest drivers get at least six to eight hours of open mouth snoring that is loud, steady drooling and involves REM (rapid eye movement). This is the kind of sleep we call "don't you dare wake me up" sleep.
If one cannot or does not have the capability of getting such a rest we then go further and suggest taking naps. Five to twenty minutes of relaxation with your eyes closed is a very good way to get a nap in for the day. When you are at work and on a lunch break is a great time to catch a nap, just bring a pillow with you to work and when break time arrives, go to your car, turn on the AC or heater depending on the weather and close your eyes. Your body will appreciate the rest and in return, your body will feel refreshed and vibrant. Your mind will be able to think faster and your attitude will skyrocket with positive energy to get things done. This energy will transfer to the ride home also. After work, traffic can be the worst at times but with the proper rest, you will be able to tackle traffic with a great big ball of patience. Sleeping while in traffic is never recommended but every now and then we see individuals who appear to be tired or sleepy as they are driving.
Drowsy driving is dangerous and can cause an accident that could have been avoided with proper sleep. Drowsy driving is almost as dangerous as drinking and driving or texting and driving. All have delayed reactions with an increased chance of tragedy. So remember, if you are tired please go night night. You will be saving your life and someone else's life. For more information on how to be a safer driver visit our website at comedydriving.com or call one of our well-rested customer service representatives at 713-465-0042.
Reasons to take Comedy Driving Defensive Driving
Flexible Schedule
Email Delivery Available
Unlimited Log-ins
State Approved
No Final Exam
Animated Course
Free Audio and Video
Comedic Course
Live Phone Support
No Hidden Fee's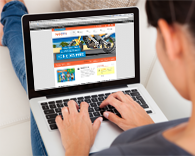 Ready to dismiss your ticket?
Social Share