Eating While Driving Can Be Dangerous
Among the many reasons drivers get distracted, eating while driving is one of the most dangerous. Eating while driving takes your mind off the road, your hands off the wheel, which can cause you to lose control, and it takes your eyes off the road so you aren't watching for pedestrians and other drivers around you.
Ten of the most dangerous foods to eat while driving are as follows:
Coffee
Soft Drinks
Tacos
Fried Chicken
Hamburgers
Ribs and Wings
Jelly Doughnuts
Soup
Chocolate
Spaghetti
These are simply examples of dangerous foods to eat while driving. Eating anything else while driving doesn't mean you're driving more safely than if you were eating one of the items on this list. Even some delicious Texas barbecue can be dangerous because it can grease up your hands or even cause you to choke, and asking for the Heimlich maneuver on a busy Texas interstate is not a very easy task.
Eating anything at all while driving is dangerous and should be avoided.
Information provided by Comedy Driving, Inc
Reasons to take Comedy Driving Defensive Driving
Flexible Schedule
Email Delivery Available
Unlimited Log-ins
State Approved
No Final Exam
Animated Course
Free Audio and Video
Comedic Course
Live Phone Support
No Hidden Fee's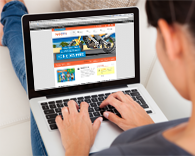 Ready to dismiss your ticket?
Social Share