Texas Drivers have a duty to their fellow motorists to able to see and be seen. That's why a vehicle must display lighted lamps, or an illuminating device, at nighttime or when conditions prevent a driver from clearly seeing a person or vehicle from at least 1,000 feet away.
At least one lighted lamp must be displayed on each side of the front of a vehicle, each at a height of 24 to 54 inches.
Seeing ahead is helpful to any driver but blinding other drivers while driving with headlights can be dangerous. That is why it is illegal to operate more than four of any combination of headlamps, including auxiliary lamps and spot lamps, which project a beam with an intensity brighter than 300 candlepower. By making your lighting accessories legally acceptable you ensure you can see and be seen without endangering other drivers.
Reasons to take Comedy Driving Defensive Driving
Flexible Schedule
Email Delivery Available
Unlimited Log-ins
State Approved
No Final Exam
Animated Course
Free Audio and Video
Comedic Course
Live Phone Support
No Hidden Fee's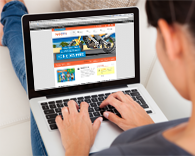 Ready to dismiss your ticket?
Social Share