6 Reasons to Take Comedy Driving
Many people put off taking a defensive driving class till the last day because they fear the class is going to be a painful process or they feel the course isn't beneficial. It doesn't have to be that way. Here are 6 reasons to take Comedy Driving:
1. Clean Driving Record:
In Texas, when you choose to pay for a traffic ticket or a moving violation, that infraction will be placed on your driving record. Each infraction will add points to your record, and the points stay on your record for up to three years. If at any given time you accrue six or more points, you will be required to pay a state annual surcharge and you could possibly have your license suspended, until the points on your record drop below six.
Completing a safety course prevents many violations from adding points to your record. However, in most cases, you are only allowed to take this course once every 12 months for a traffic ticket.
2. Saves Money:
Speeding tickets in Texas can cost a person around $150. If you take defensive driving for a speeding ticket, the court fees will cost you around $100. The course will cost around $25, saving you around $25. Since taking a defensive driving course can also prevent points from being added to your record, it can also save you money in the long run by keeping you from having to pay the annual surcharges mentioned above and not to mention the potential increases for car insurance.
3. Insurance Discount:
Also, your automobile insurance provider may grant you up to a 10% discount that can last 3-years. Not all insurance providers grant this discount so if you want to take a class specifically for insurance purposes, you should ask your provider if they give the discount first.
4. Flexible Schedule:
If you opt to take our course online then you can take it based on your own schedule. While all state approved Texas course must be six hours in length, by taking the course online, you can take part of the course as your schedule allows and finish it later when you have more time available. When you take the course online you do not have to complete the course all at one time.
5. Quick Certificate Delivery:
At Comedy Driving, whether you take the course online or in one of the classrooms, you have the option of email delivery of your certificate.  This means that you can receive your certificate the same day you complete the course, allowing you the ability to print it off, sign it and turn it in to the court.  If you prefer to receive it by mail, we have that option as well.
6. Easily Accessible:
If you take the course in a classroom, Comedy Driving has several convenient Texas defensive driving locations throughout Houston. The locations are: Katy Freeway, Sugar Land, League City, and Willowbrook.
So now you know the course isn't hard to do, so don't put it off any longer! Just sign up with Comedy Driving today.
Reasons to take Comedy Driving Defensive Driving
Flexible Schedule
Email Delivery Available
Unlimited Log-ins
State Approved
No Final Exam
Animated Course
Free Audio and Video
Comedic Course
Live Phone Support
No Hidden Fee's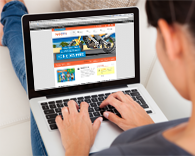 Ready to dismiss your ticket?
Social Share