Driving at Intersections in Texas
There are a few different kinds of intersections to be aware of when traveling in Texas. While signalized intersections are the norm, there are also roundabout intersections and intersections with pedestrian crosswalks.
A signalized intersection uses a combination of lights, signs, and road markings to signal which drivers have the right of way and when drivers must give the right of way. There may simply be a set of traffic lights that change from green to yellow to red and back to green again or the signals can be more specific or complex by indicating that turns are only allowed on a green arrow pointing in the direction of the turn. Signs can also help determine right-of-way in intersections. For example, there may be a sign that indicates right turns are not permitted during a red light.
A roundabout is an intersection where multiple two-lane roadways, each with one lane in each direction, meet and guide all traffic entering the intersection from any of the approaching roadways into a circular driving pattern until a driver has reached the road it desires. In a roundabout intersection, there is usually an island in the middle, which prevents traffic from crossing from one side of the intersection to the opposite side, therefore, forcing traffic to travel around it.
At any intersection, you may see two white lines running parallel to each other and perpendicular to the road with diagonally running lines between. This signifies a pedestrian crosswalk. At such intersections, drivers should yield to any pedestrians that may be using the crosswalk.
Texas has many different types of driving environments. No matter what part of Texas you drive in, the state driving laws must be followed, including all rules on intersections. According to the Texas Transportation Code, Section 541.303, an intersection is defined as the common area of the junction of two roads, and a place where vehicles might collide with other traveling vehicles. This serves as a guide and a warning to Texans to play it safe while driving through or around intersections.
Information provided by our TX Defensive Driving Class - Comedy Driving, Inc
Reasons to take Comedy Driving Defensive Driving
Flexible Schedule
Email Delivery Available
Unlimited Log-ins
State Approved
No Final Exam
Animated Course
Free Audio and Video
Comedic Course
Live Phone Support
No Hidden Fee's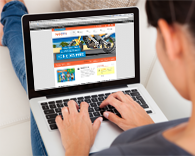 Ready to dismiss your ticket?
Social Share